Mangano Seeks Redevelopment Proposals for the 77 Acre Coliseum Site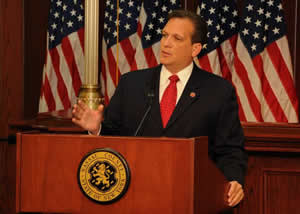 Nassau County Executive Edward P. Mangano today announced that he is seeking proposals to redevelop the 77-acre site surrounding Nassau Veterans Memorial Coliseum in Uniondale. In order to prepare a Request-For-Proposals (RFP) to redevelop the site, the County Executive is encouraging all parties with privately-financed proposals to submit them to the County immediately. Proposals must address job creation, quality of life and revenue. Although all proposals will be considered, the County is seeking development that complements existing recreational, sporting and commercial assets at Eisenhower Park, Mitchel Park and Museum Row.
The site:
77-acres;
42 year old Coliseum encumbered by a lease expiring in 2015.
"The time is now to explore a new path for economic development opportunities and job growth at the site of Nassau Coliseum," said County Executive Mangano. "In order to draft an RFP, Nassau County is seeking privately-financed proposals for the redevelopment of the Coliseum site. I encourage all those with a plan to contact the County immediately."
Proposals for development of the Nassau Veterans Memorial Coliseum site must be submitted via registered, return receipt mail by Friday, August 12, 2011 to County Executive Edward P. Mangano, 1550 Franklin Avenue, Mineola, NY 11501 or submitted via email to economicdevelopment@nassaucountyny.gov.