Mangano Brings Public Referendum To Nassau County Residents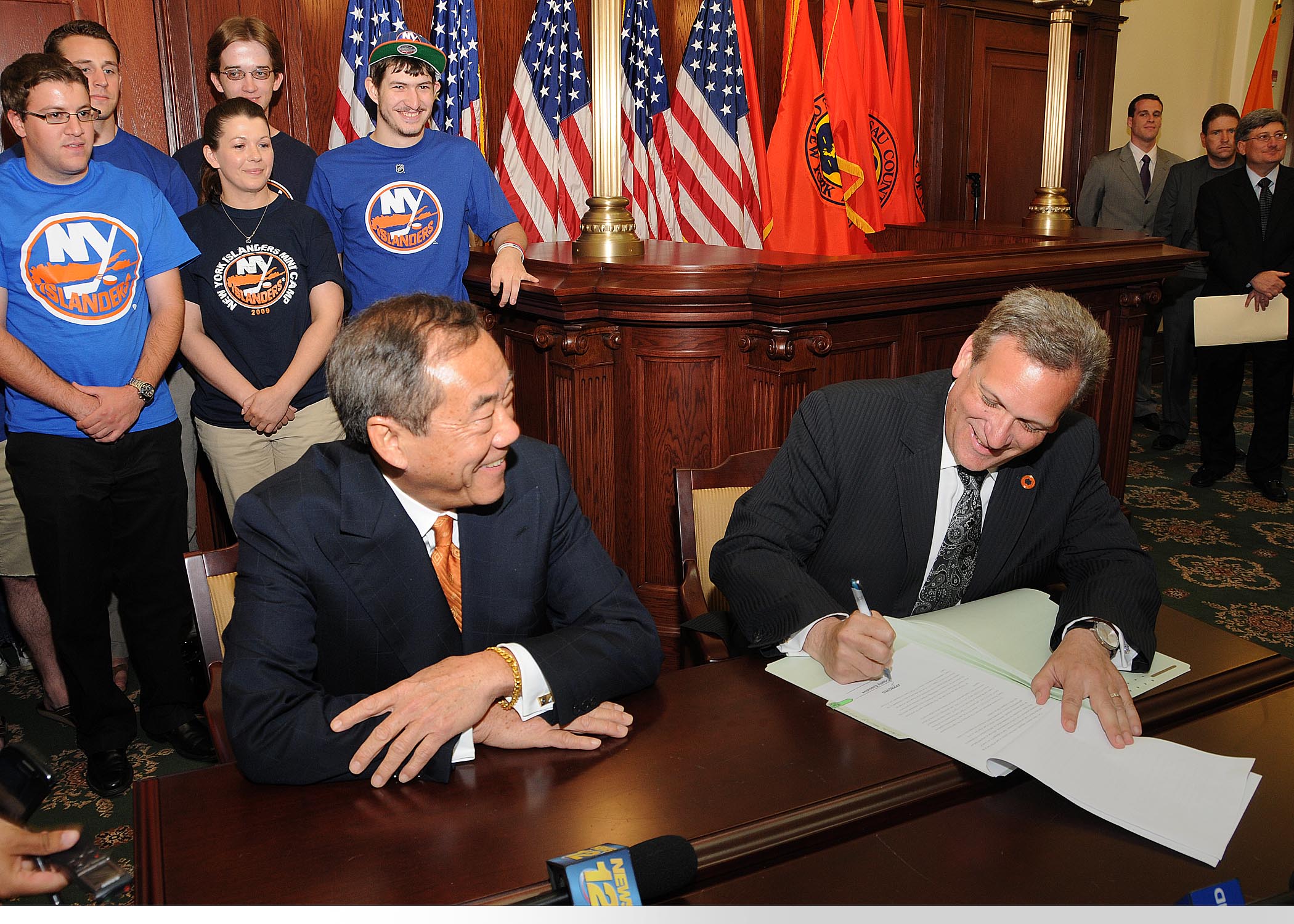 Fate of New Sports Arena & Minor League Ballpark to be Decided August 1st
Nassau County Executive Edward P. Mangano was joined today by New York Islanders owner Charles Wang, New York Islander fans and local business, community and labor leaders at a bill signing ceremony following the passage of legislation that allows residents to vote on the County Executive's Economic Development and Job Creation Plan at a public referendum to be held on August 1, 2011. The Nassau County Legislature voted 11-7 to approve the measure in a Legislative Session held this afternoon.
"A new sports arena and minor league ballpark are critical to advancing Nassau's job generating economic development plan," said County Executive Mangano. "With passage of this legislation and approval by residents, the County will take a giant leap forward in creating a world-class sports-entertainment destination center in Nassau County."
Residents will have the opportunity to have their voices heard by deciding the fate of this Economic Development and Job Creation Plan during a County-wide public referendum on August 1, 2011.At the same time, voters will decide the fate of the New York Islanders, Long Island's only professional sports team, who face the potential of having to leave Nassau County in 2015 when their lease expires should a new sports arena not be built. Should residents approve the measure, construction is estimated to begin in 2012, so that the new sports arena can open no later than 2015.
"Today, we took a monumental step forward in the process of keeping our Islanders, creating jobs, building a new sports arena and building a new minor league ballpark stadium. This plan is now closer than ever to becoming a reality," said Mangano. "This summer, residents officially have the opportunity to voice their opinions on this plan by casting their votes. I invite every Nassau County resident to be a part of the Democratic Process and vote for Nassau County's future on August 1st."
Coliseum Redevelopment Timeline:
2015 A new state-of-the-art sports arena will open.
2012 Construction of a new sports arena can begin.
2011 A County-wide public referendum will be held on August 1, 2011.
2010 County Executive Mangano proposes bringing the Shinnecock Indian Nation's casino to the site as a means of financing construction of a new sports arena.
2009 The Town of Hempstead announces the development of a scaled back zone for the Coliseum site.
2007 Nassau County and the Lighthouse Development Group execute a Designated Developer Agreement granting development rights.
2005 Nassau County completes a Request for Proposal (RFP) process to develop the Coliseum site.
2004 NY Islanders owner Charles Wang and Nassau County reveal their plans for transforming the Coliseum and revitalizing the surrounding area.
2003 NY Islanders owner Charles Wang and Nassau County announce plans to finance the renovation of the existing Coliseum by developing the 77-acre site.