Mangano's Historic Assessment Reforms Save Millions for Residents
Nassau County has the only dysfunctional assessment system of its kind in the United States of America. Governed by a unique New York State law and protected by prior politician's lack of will to tackle the dysfunction, the assessment system has generated $1.6 billion in debt and a $100 million in errors annually for the last decade. Nassau County Executive Edward P. Mangano, with the support of the Republican Majority Caucus in the Legislature, today ends the accumulation of residential tax assessment debt to save taxpayers $30 million. For the first time in the history of Nassau County, every residential challenge has been corrected prior to finalizing the assessment roll thanks to reforms implemented by County Executive Mangano.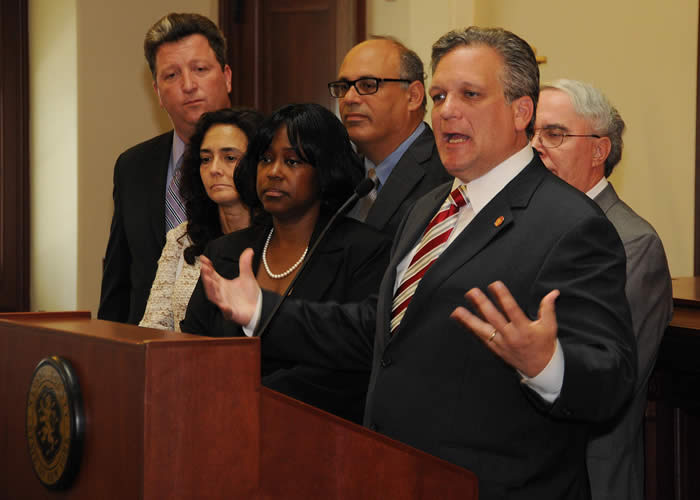 Simply put:
--- Residents receive their correct home value before paying taxes.
--- Residents no longer have to pay money they do not owe to the County of Nassau.
--- Future generations have ZERO future debt liability for the 2012-13 assessment roll.
--- Nassau County saves over $30 million a year, plus interest savings.
--- Nassau County saves $4.3 million a year in labor employee processing savings.

County Executive Mangano's assessment reforms avoid costly and time consuming litigation. The County Executive's Residential Assessment Reform Team (comprised of Shalom Maidenbaum, Paola Orsini, Bob Orosz and William Wise) established a process to enable the County to conduct meaningful, good-faith settlement negotiations concerning residential assessments at the earliest possible stage. In 2011, the County reduced residential liability from $30 million to $2 million. This year, Nassau County will face zero liability for the first-time in its history.

"I would like to commend County Executive Mangano and other members of the Residential Assessment Reform Team for securing a positive outcome for the homeowners," stated Residential Assessment Review Team member Bob Orosz.

Residential Assessment Review Team member Paola Orsini stated, "The implementation of the changes recommended by County Executive Mangano'sResidential Assessment Reform Team (ART) has led to the prompt review and correction of assessment challenges before a tax refund situation occurs. This welcome change is unprecedented as it has achieved significant savings for taxpayers. I am honored to have been a part of this process."

"The historic reforms implemented by this administration have truly helped homeowners by ensuring they receive a correct home value before paying taxes," added Residential Assessment Review Team member Shalom Maidenbaum.