Mangano Announces Intensified Police Patrols and Rolls Out "See Something, Say Something" Campaign For Jewish High Holy Days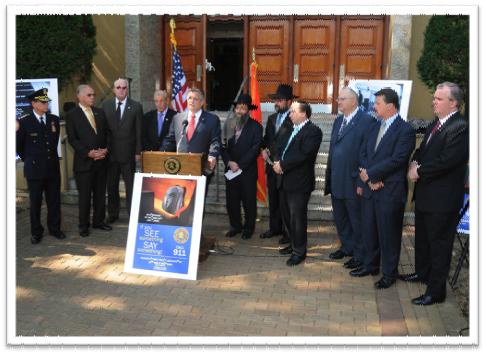 Rockville Centre, NY – Nassau County Executive Edward P. Mangano, New York State Assemblyman David McDonough, and Police Commissioner Thomas Dale joined with religious leaders to announce intensified police patrols around temples and synagogues for the upcoming Jewish High Holy Days. County Executive Mangano also unveiled the county's new "See Something, Say Something" campaign initiative.

"The County will intensify police patrols around temples and synagogues during the upcoming Jewish High Holy Holidays which begin at sundown this Sunday," said County Executive Mangano. "All religious leaders should know that the Nassau County Police Department will take any and all threats to public safety seriously as nothing is more important than the safety of our residents."

Police officials say there has been no specific terrorist or hate crime threat made to Nassau County, however, County ExecutiveMangano reminded residents that if they "See Something, Say Something" to the Nassau County Police Department.

"In these dangerous times, it is critical that we all be aware of our surroundings and Nassau County's "See Something, Say Something" initiative is a great way to raise awareness of such dangers and protect our citizens," said Assembly Task Force on Public Safety Chairman Assemblyman Dave McDonough.

Mangano added, "Residents can help be the eyes and ears for the police department. Don't assume a package, bag or box was left somewhere by accident. If you see an unattended package, at or outside of a church, temple, train station, synagogue, mall or high traffic area – or if you see anything suspicious, report it. Let the police know. Dial 911. If you are unsure about something, or your gut tells you something may not be right, call our Nassau County Police Department tip line at 516-573-7720."

Police intelligence officials will use information they've gathered from various crimes over the last few years to pre-determine where criminal action may occur and take the proper precautions by assigning resources accordingly. Nassau Police Department's Intelligence and analysis unit has become a model for police departments around the country, he said.

Nassau Police Commissioner Dale stated, "Last week the County Executive brought together Jewish leaders and the precinct commanders for their particular areas to establish or re-establish a better working relationship ahead of the holidays."

Earlier this week, County Executive Mangano partnered with US Congressman Peter King to bring together more than 100 clergy of varied denominations, and security personnel who represented houses of worship across Nassau County, for a briefing on responding to an "active shooter" incident. The goal of the briefing – held at the Applied Science Foundation for Homeland Security in Bethpage – was to ensure that the County's (law enforcement) protocols are coordinated with those in charge of these public facilities, so that they collectively provide the best outcome for public safety in an "active shooter" or other public safety incident. County Executive Mangano and the Nassau Police Department have hosted three previous active shooter demonstrations for public and private school officials.