Six-Year-Old Afghan Girl Successfully Underwent Surgery At LI Hospital Today After She Was Shot In The Face By The Taliban
Mangano Honors Doctors, Hospitals and Organizations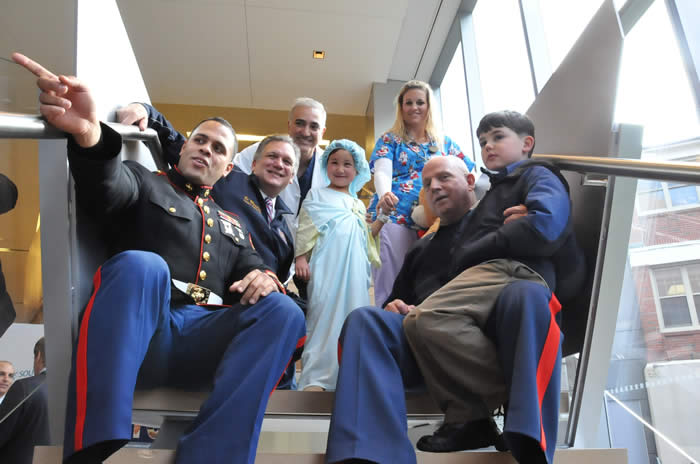 A six-year-old Afghani girl named Marzieh successfully underwent surgery at South Nassau Communities Hospital today to help her breathe normally after she was shot in the face over a year ago by Taliban insurgents. Nassau County Executive Edward P. Mangano presented the courageous Marzieh with a big teddy bear and wished her a speedy recovery prior to the surgery and honored Marzieh's surgeon, Dr. Kaveh Alizadeh; South Nassau Communities Hospital; Mission Restore and the Global Relief Fund for all of their efforts and heroic work in saving and improving the life of this beautiful young girl.
Marzieh underwent two hours of surgery and was "resting comfortably" in the hospital, said Dr. Kaveh Alizadeh, the lead surgeon. Marzieh is to remain in the hospital overnight Friday and is expected to be released Saturday, Alizadeh said "Everything went beautifully," said Alizadeh, who is a founder of Mission Restore, an organization that aids children injured in war-torn countries. Alizadeh, who is also president of the Long Island Plastic Surgical Group in Garden City, N.Y., performed the surgery without charge, as he has with others in the recent past.
Dr. Alizadeh said surgeons repaired tissue in her nose that had been scared by bullets from Taliban rifles. "Her nose was completely scared," Alizadeh said. He said doctors grafted skin from both of Marzieh's ears to cover the scaring in her nose. He said doctors also smoothed out a wound on her left check that had been damaged by a bullet.
Marzieh was shot after she was forced to witness the execution of her father and her 3-year-old brother in their village in Afghanistan. The village has no running water or electricity. Marzieh was brought to the United States through the efforts of the Global Medical Relief Fund of Staten Island. Her last name and hometown in Afghanistan are being withheld for security reasons.
The United States Marines was also on hand to provide toys for the young girl through the Toys for Tots Program.