Mangano & Nassau Council Of Chambers Of Commerce Remind Residents Of The Importance Of Shopping Locally This Holiday Season
Nassau County Executive Edward P. Mangano and the Nassau County Council of Chambers of Commerce held a press conference today reminding Nassau residents of the importance of shopping locally this holiday season.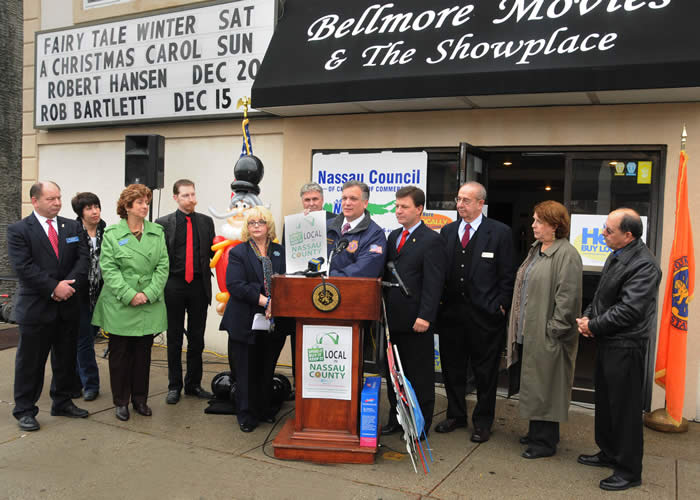 "I encourage all residents to support their hometown businesses this holiday season, and year-round, as local businesses are the heartbeat of Nassau County's economy and make our communities stronger and better places to live, work and raise a family," said County Executive Mangano. "This year, it is even more important to shop locally, as many small businesses throughout Nassau County are still recovering from Hurricane Sandy. Now more than ever, our local businesses need our support as they get back up and running."
There are many benefits to buying locally some of which include:
Money spent here stays here (keeping local dollars in the economy)
Jobs and wages (supporting local businesses provides support for the jobs they offer)
Stronger tax base
Local business owners invest in our community
Convenience & Green-Friendly (proximity reduces gas consumption)
The Nassau Council of Chambers of Commerce is an umbrella organization acting as a spokesperson for over 40 Chambers of Commerce in Nassau County, New York. Long Island is home to more than 90,000 businesses grossing more than $100 billion a year. The vast majority of these businesses employ 50 people or less.
Statistics indicate that small businesses employ over half of all private sector employees and that two out of every three new jobs over the past 15 years have been generated by small businesses.Just recently, Nassau County participated in a National movement known as Small Business Saturday, which was Saturday, November 24th. This national initiative marked a day to support local businesses that create jobs, boost the local economy and preserve neighborhoods around the nation.
"With local employers contributing to the economic base and connectivity of our local communities, we must help raise awareness about the role they play and promote a business-friendly Nassau that attracts suppliers and distributors in similar industries," said County Executive Mangano.