Mangano Recognizes Nathan's Famous For Employing Hundreds Of Residents With Corporate & Franchise Jobs
Born in Brooklyn, Nathan's is Growing Up in Nassau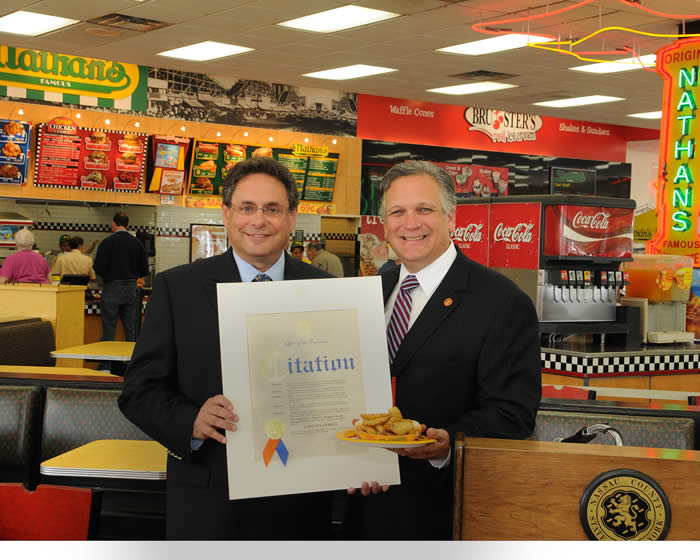 Nassau County Executive Edward P. Mangano cast a spotlight on Nathan's Famous as the Employer of the Month on Wednesday, June 6th by recognizing their efforts to employ local residents at their corporate and franchise operations in Nassau County. Nathan's Famous President and Chief Operating Officer Wayne Norbitz joined the County Executive at the Oceanside landmark establishment – the second oldest Nathan's Famous store in the nation. Nathan's corporate headquarters is located in Jericho. The corporation and local franchises employ over 500 people.
"To have a business like Nathan's Famous, which is a household name, located here in Nassau County is a tremendous boost to our region," said County Executive Mangano. "People all over the world know of Nathan's hot dogs. For more than half a century Nathan's has been a contributor to the local economic base and built a reputation as a good corporate citizen among the Nassau County community."
Nathan's Famous was founded by Nathan Handwerker in Coney Island, Brooklyn in 1916. Nathan's, surrounded by beach-goers and amusement park attendees, became known for its 5 cent frankfurters. In 1956, Handwerker and his wife Ida came east from Brooklyn to Lawrence, Long Island and opened the second Nathan's on Long Beach Road in Oceanside. It became a well-known stop for sun-soaked locals traveling to and from the boardwalk and beach in Long Beach and today is the second oldest business establishment in Oceanside.
Nathan's Famous President and Chief Operating Officer Wayne Norbitz stated, "The headquarters of Famous Nathan's has been calling Nassau County home for over 23 years. We originally moved to Long Island because so many of our corporate employees lived on Long Island and it is a significant market for us in terms of our restaurant presence, as well as through the retail distribution of our products. We thank County Executive Mangano for honoring us as Nassau County's Employer of the Month."
Today, there are approximately 320 Nathan's restaurants throughout the nation and Nathan's hot dogs are served in more than 16,000 food service establishments nationwide. Nathan's packaged hot dogs can be purchased in more than 32,000 supermarkets, grocery and club stores around the country and their products are featured in all 50 states as well as eight foreign countries.
Last year, more than 430 million Nathan's hot dogs were sold in the United States. Each year, Nathan's makes a donation of 100,000 hot dogs to food banks on July 4th, during the annual hot dog eating contest. In a tradition that started with Nathan Handwerker, Nathan's gives back to the community by supporting many worthy charitable causes each year.