Mangano Kicks Off Belmont Stakes Festivities
Belmont Stakes to Create a Major EconomicBoon for Nassau County Local Businesses and Tourism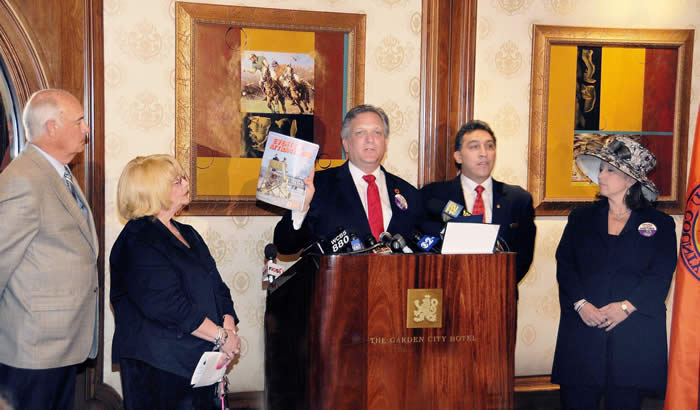 Nassau County Executive Edward P. Mangano (center) was joined by Joann K. Adams (right), Director of the New York Racing Association (NYRA); Moke McGowan (left), President of the Long Island Convention and Visitors Bureau; Julie Marchesella (2nd left) Vice President of the Nassau County Chambers of Commerce; and Nassar Samman (2nd right) General Manager of the Garden City Hotel to announce an expected restaurant and hotel boon as a result of the Belmont Stakes taking place this upcoming weekend.
Experts predict that Belmont racing contributes well in excess of $9 million to Nassau County's local economy, which does not include the economic impact of dollars spent at local restaurants, businesses and hotels. The financial benefit to the county could potentially be double due to the Triple Crown contender "I'll Have Another" when taking into account the hotels and restaurants that benefit from an event of this magnitude. For one afternoon, the eyes of the world will turn its eyes to Nassau's own Belmont Stakes.
The Belmont Stakes is one of the largest sporting events in the world. Tens of millions of viewers and spectators watch the famed sporting event from across the world. Million's of dollars will be poured into our local economy.
"For 144 years Nassau County has hosted the Stakes at Belmont Park," said County Executive Mangano. "The race provides our County with a major boon to the local economy and this Saturday, the millions around the world that will be watching us once again. The Belmont Stakes are always a great start to Nassau County's summer tourism season and I invite everyone to come down to Belmont Park for the festivities this coming weekend and to come back all summer long to enjoy our beaches, pools, golf courses and downtown villages."
In addition to the Belmont Stakes residents can attend the annual Belmont Festival here in Garden City tomorrow. This very popular event, sponsored by the New York Racing Association and the Garden City Hotel, is one of the most anticipated and well attended events of the year and it gets bigger and more popular each and every year throughout the county. The Festival here in Garden City will take place on 7th Street from 6-10 p.m. and will feature dance groups, live music, family-friendly activities and a "Wing Off" chicken wing competition. The Wing Off will take place from 6:30 to 9 p.m. during which local restaurants will compete to be named Garden City's chicken wing champion. Seven restaurants are currently confirmed to take part in the competition: Rein at the Garden City Hotel; Walk Street; J.P. McGeevers; Lani's Marketplace; Pop's Wings; Famous Dave's and Murphy's Bar and Grill. The winner will be announced at 9:30 p.m.
The general public will judge the contest as any passerby can get in on the action for a minimum donation of $5, which includes a plate of wings and a ballot. All proceeds benefit Nassau County Firefighter's Operation Wounded Warrior project, which provides needed items for injured United States military personnel.
In addition, residents and visitors can attend festivities in Floral Park this Sunday, June 10th. The Village of Floral Park will host their Annual Floral Park Belmont Festival on Sunday, June 10th from 2pm to 7pm on Tulip Avenue.
The Belmont Stakes take place this Saturday, June 9, 2011 at Belmont Park, located at 2150 Hempstead Turnpike, Elmont NY. For more information please visit www.belmontstakes.com