Mangano: Long Beach International Film Festival's "Sneak Peak" Kicks Off August 30th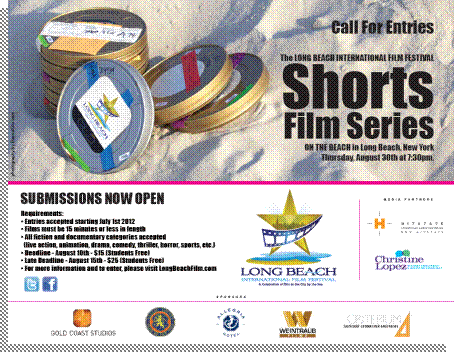 Preview Event Now Accepting Film Admissions
Nassau County Executive Edward P. Mangano announces that the Long Beach International Film Festival (LBIFF) will hold its "Shorts on the Beach" Film Series on August 30, 2012 at the Allegria Hotel. Sponsored in part by Nassau County, the event will showcase a variety of short films that are 15 minutes or less and will provide filmgoers with a sneak peek into LBIFF 2013, which is planned to be a multi-day event.
"Nassau County has always been a supporter of independent and studio films, and it's our pleasure to bring this type of entertainment and cultural opportunity to our constituents." said County Executive Mangano. "This special 'sneak peek' will be just a sample of what the Long Beach Film Festival will be offering in 2013. It will truly be a celebration of film in the city by the sea."
LBIFF is currently accepting submissions in all categories for the Shorts on the Beach series, including live action, animation, drama, comedy, thriller, horror, sports, and documentary. The deadline for submissions is July 31st and the entrance fee is $15 (students $10). Late submissions will be accepted until August 5th at a fee of $25 (students $20). Films can be submitted on the website at www.longbeachfilm.com or by email at info@longbeachfilm.com.
The festival series will kick-off at the Allegria Hotel on August 30th at 7:30 p.m. with a Sunset Cocktail Hour. Film screenings will begin at 9:00 p.m.
County Executive Mangano has long been focused on bolstering the television and motion picture industry in Nassau County. The former United States Navy-Grumman Corporation property in Bethpage is now home to successful production studios that encompass three buildings and nine sound stages.
Movies and television shows are now being filmed in Nassau County on a regular basis, including Royal Pains, Running Wilde, Gossip Girl, The Good Wife, and Boardwalk Empire, resulting in $90 million being spent in the local economy each year, as well as producing revenue for the County. To stay on this path and aid in our economic recovery, the Nassau County Film Commission has hosted a Film Friendly Nassau County Location and Studio Tour of the County two years in a row. This business-friendly model encourages the industry to work in the region and create jobs in Nassau County
"The Long Beach International Film Festival will provide an opportunity for filmmakers to come and see the types of filming locations Nassau County has to offer whether it be our beaches, mansions, suburban areas and, of course, Gold Coast Studios and Grumman Studios, which are all New York State-approved movie studios which qualify for the much sought after 30% tax credit," said County Executive Mangano.
For more information, please visit www.longbeachfilm.com or call (516) 984-9804.