Mangano: Accident Reports Now Available Online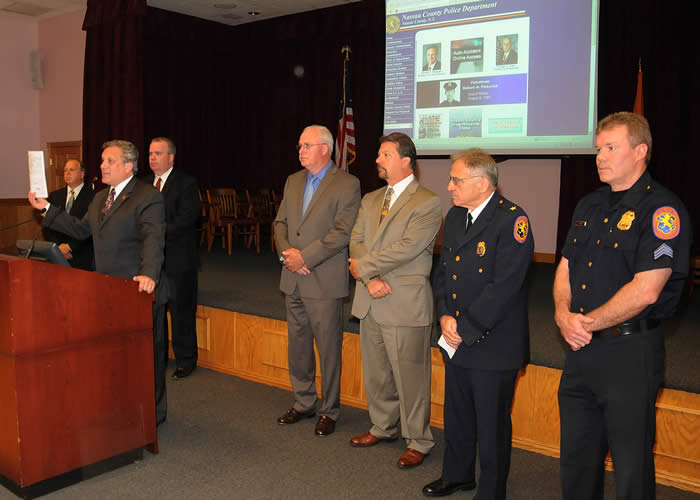 Initiative Provides Residents with Easier Access to Reports While Helping Reduce the Cost of Government for Taxpayers
Nassau County Executive Edward P. Mangano and Nassau County Police Commissioner Tom Dale today announced an initiative that makes life a little easier for people who are involved in traffic accidents. Rather than having to travel to Police Headquarters or to a local Police Precinct to pick up a traffic accident report, accident victims can access a copy of their report on the Internet at www.pdcn.org.
County Executive Mangano stated, "This simple but smart initiative makes life a little bit easier for residents involved in an automobile accident. With a 10-day window in which to notify your insurance company after an accident, it can sometimes be difficult to travel to a police precinct for a copy of the report. With this online system, your accident report is at your fingertips."
Research indicates that the most common instance for residents visiting a police precinct is to obtain an accident report. Accordingly, County Executive Mangano directed the Nassau County Police Department to make accident reports available on the Internet to assist residents. Accident reports can still be obtained in person at Police Headquarters in Mineola, as well as police precincts and policing centers.
Under the direction of County Executive Mangano, Nassau County has implemented the newest state-of-the-art technology. Earlier this year, County Executive Mangano launched "Nassau Now" – a mobile and web application designed to assist residents in communicating more efficiently and effectively with County government. "Nassau Now" is available on the County website and via mobile application for iPhone, iPad, iPod Touch and Android platforms. Once a resident downloads the app, they simply log in to explore and enjoy a complimentary full-access subscription to Nassau County. Residents who do not have access to the mobile app can still use "Nassau Now" through the County's website: www.nassaucountyny.gov.