Mangano Releases $45 Million Deficit Reduction Plan
Nassau County Executive Edward P. Mangano today furthered his commitment to protecting overburdened taxpayers by releasing a Deficit Reduction Plan that cuts the size of government while not raising property taxes. County Executive Mangano closed the County's $310 million budget deficit to just $45 million as projected by Comptroller George Maragos earlier this month. The Deficit Reduction Plan eliminates the projected deficit and keeps Nassau on the road to recovery.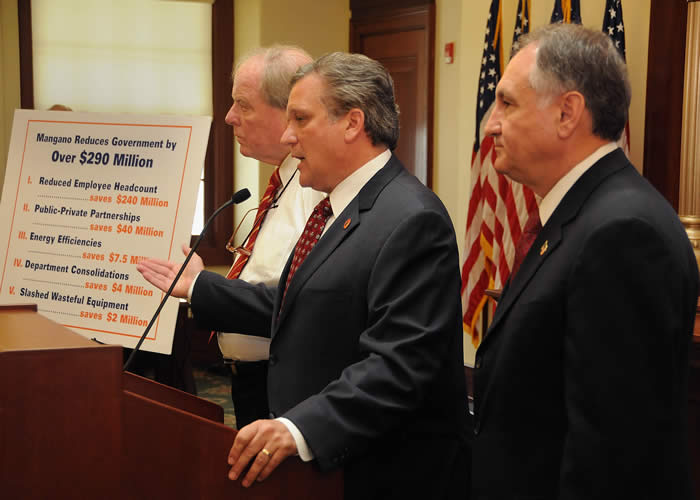 County Executive Mangano stated, "Families that work hard, play by the rules and live within their means deserve better than to be left with higher tax bills. Today's plan keeps Nassau's fiscal recovery on track while protecting residents from a property tax hike."
Presiding Officer Peter Schmitt stated, "The Democrats have not provided a single vote to implement Nassau's fiscal recovery plan as they simply want to create fiscal chaos and force a property tax hike unless their political demands are met. We will balance this budget by making further cuts to County government."
When County Executive Mangano and the Republican Majority took office in 2010, Nassau faced projected budget deficits exceeding $400 million. The Deficit Reduction Plan released today closes the remaining $45 million projected deficit without hiking property taxes. The plan:
Reduces the workforce by an additional 200 positions.
Slashes capital improvement projects.
Cancels non-mandated contracts and departmental purchases.
Cancels evening hours at the Nassau County Department of Social Services and Nassau County Traffic and Parking Violations Agency.
Mangano and Republican Majority Reduces Government by Over $290 Million:
Saved $240 million by cutting the workforce by 20%, including more than 100 patronage positions added to government by Democrat legislators. Today's actions will save millions more by cutting 200 additional positions.
Saved over $40 million annually by implementing two public-private partnerships, including one with Nassau's bus system and another which brought inmate healthcare services to the County jail.
Saved over $13.5 million annually by consolidating 10 departments, creating energy efficiencies and implementing operational cost-saving actions.
Mangano Releases $45 Million Deficit Reduction Plan