Mangano Announces Housing For Homeless Veterans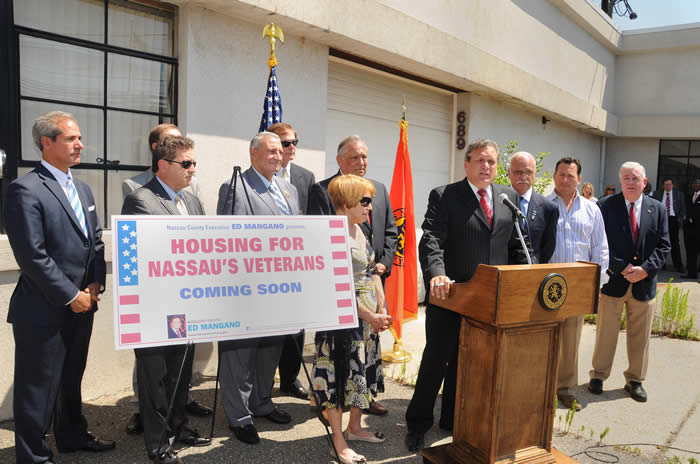 200 Veterans to be Served Annually at New Facility
Nassau County Executive Edward P. Mangano was joined today by Nassau County Legislator Joe Belesi, North Hempstead Councilman Angelo Ferrara and representatives from the New York Veterans Advocacy Group (NYVAG) to announce that Nassau County has awarded a $1.5 million grant from Federal HOME Investment Partnerships (HOME) Program funds to NYVAG to assist in converting an empty commercial property in Westbury into transitional housing for returning United States military veterans.
"My administration is committed to serving our veterans and ensuring they have a proper place to live in our community," said County Executive Mangano. "Building on my efforts to find homes for hometown heroes, this facility will help hundreds of homeless veterans rebuild their lives - one step at a time. I am thrilled to that Nassau County was able to help make this facility possible."
The Federal funds allocated to this project will facilitate renovations to a building located at 689 Main Street in Westbury that will serve as a 53-bed facility complete with counseling and referral services for veterans. The first of its kind in Nassau County, this facility is estimated to serve approximately 200 veterans annually and is the result of inter-municipal cooperation between Nassau County and the Town of North Hempstead. The Town of North Hempsteadre-zoned the property from a business district to a special-use district to accommodate the construction of facility.
North Hempstead Councilman Angelo Ferrara stated, "When we were approached by this veterans group and apprised of their need and special program to help our veterans, we wanted to act as quickly as possible to help. To do our part we needed to amend our local zoning law and we did just that."
The New York Veterans Advocacy Group is a private non-profit corporation that has been providing housing and counseling services to military veterans since 2009. NYVAG will be issuing a Request for Proposals (RFP) to select a developer for the project in the coming weeks.
"Nassau County continues to lead in fighting for our veterans," said Mangano. "From constructing housing for homeless veterans, sponsoring job fairs and career training through our 'Welcome Home Heroes' program, we remain committed to enhancing services for Nassau's returning servicemen and women."
County Executive Mangano renewed Nassau's commitment to its veteran community upon taking office in 2010. Under the direction of County Executive Mangano, Nassau County:
Opened a 42-unit Affordable Housing Complex in Mitchel Field for veterans and their families and an additional 18 homes for active-duty military personnel.
Announced plans for a brand-new "Housing For Our Freedom Program" to provide affordable and sustainable housing to soldiers and their families whereby the IDA purchases foreclosed homes from banks, rehabilitates them and then rents them to members of our Armed Forces. After 3 years, soldiers will be given the opportunity to purchase these homes.
Transferred land in Hicksville to a not-for-profit named Homes For Our Homecoming Heroes, which plans to construct a home for a veteran returning from the Middle East.
Hosts Semi-Annual Stand Downs to feed and clothe homeless veterans.
Hosts Annual Veteran Job Fairs to help local veterans find local employment.
Opened a new office for the Nassau Veterans Service Agency in East Meadow at Nassau University Medical Center.
Joined in the opening of a new Veterans Affairs (VA) health clinic at this same location to provide state-of-the-art medical care for our veterans.
Installed Restrooms at the Veterans Memorial in Eisenhower Park.
Hosts an Annual United Veterans Organization Memorial Day & Veterans Day Service, Gold Star Families Remembrance Service, POW/MIA Candlelight Recognition Ceremony, Korean War Veterans Memorial Service,
Hosts an Annual Veterans Barbeque.
Provides veteran transportation, including handicapped accessible transportation, to the VA hospital in Northport and the clinic in East Meadow.