Mangano Announces Nassau County Police Officer Exam To Be Held In December
Nassau County Executive Edward P. Mangano, along with Police Commissioner Thomas V. Dale and Civil Service Executive Director Karl Kampe, today announced plans to hold a Nassau County Police Officer Exam on December 9, 2012. The filing deadline to take the exam is Friday, October 12th. The exam is being given as the current list of qualified candidates will expire in April 2013 due to New York State Civil Service Law.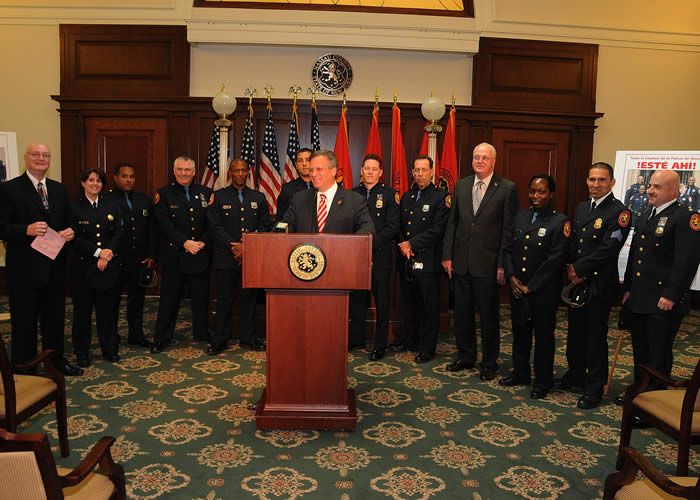 "This is an excellent opportunity to apply for a career in law enforcement with the Nassau County Police Department," said County Executive Mangano. "Becoming a Nassau County Police Officer will enable you to serve your community, face new challenges on a daily basis and have diversified job tasks. I urge all residents who have contemplated this career path to sign up for the test."
While to date, no one was hired off the last test qualification list, the County expects to hire some members off the current list for the County and local village forces. With projected retirements in the next two years, the County expects a larger number of individuals to be hired off the qualified list of December test takers.
"It is critical that Nassau County's police force is representative of the community in which we serve," said Police Commissioner Dale. "To that end, we will be contacting members of all communities in an effort to find qualified individuals from all ethnicities looking to serve their community."
The Nassau County Police Department is a proud organization with a long and distinguished history due to the many dedicated and professional police officers that serve our community. Here is a chance to be a part of our team.
Applications can be obtained at Nassau County Police Headquarters, any Nassau County Police Precinct or Policing Center, the Nassau County Executive's Office, the Nassau County Civil Service Commission, or by calling 1-800-RECRUIT. Interested applicants can also visit the Nassau County website www.nassaucountyny.gov/recruit and request that an application be mailed to them being mindful of the submission deadline.
Candidates must be at least 17 years of age and have not reached their 35th birthday as of December 9th, 2012: provided however, that time spent on military duty may be deducted from age up to a maximum of six years.
Within the Police Department there are many career opportunities, which include but are not limited to: patrol, marine, aviation, mounted, canine, plainclothes, specialized enforcement, and many others. There is also the detective division, which conducts investigations through a number of different squads, some of which are: precinct, homicide, robbery, arson/bomb, property, and special victims. Additional opportunities are available in highway patrol, emergency services and community affairs, along with a number of other units that reflect the needs of any large employer.