Mangano & Rice To Host Gun Buy Back Program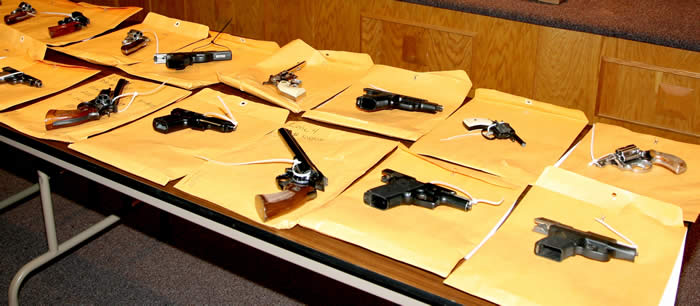 Nassau County Executive Edward P. Mangano and District Attorney Kathleen Rice announced that the Nassau County Police Department will host a Gun Buy Back Program on Saturday, September 29th from 9 a.m. to 12 p.m. at Pastor Donald A. McClurkin, Jr.'s Perfecting Faith Church, located at 311 North Main Street in Freeport.
The Gun Buy Back Program is strictly anonymous and individuals will be paid $200 cash for each turned in operable handgun. Not accepted are: licensed guns, BB Guns, air pistols, long guns and replicas. Guns transported by car must be transported in the trunk of the car and must be unloaded and put in a plastic/paper bag or in a shoe box.
"The Gun Buyback Program, using asset forfeiture dollars, has taken 2,099 guns off our streets before they fell into the wrong hands," said County Executive Mangano. "Community support is critical to the success of this program, and we appreciate the assistance of Pastor Donald A. McClurkin, Jr. and the members of the clergy who are participating in this effort to take even more fire arms off our streets. By working together, we can ensure that Nassau County remains the safest suburban County in the nation."
"Nassau County law enforcement is committed to taking a proactive stance against gun violence, and gun buyback events like this have proven effective in getting illegal weapons out of homes and off of our streets," Rice said. "I want to thank the religious and community leaders who believe in our efforts, and help make this program so successful."
"The Gun Buy Back program, our ShotSpotter Program and our GunStoppers Program have been very effective in decreasing gun related crime here in Nassau County," said Police Commissioner Tom Dale.
Forfeiture funds from the Nassau County Police Department and the District Attorney's Office are utilized to fund the Gun Buy Back Program.