Mangano Advances Initiatives To Address Prescription Drug Abuse
Following a nearly year-long study on the impact of prescription drug abuse in Nassau, County Executive Edward P. Mangano today accepted the Nassau County Prescription Drug Abuse Task Force's recommendations for action against this deadly problem. County Executive Mangano formed the Task Force last year, shortly after the tragic events at a Medford Pharmacy where 4 people were killed during a robbery of prescription pain-killers, specifically Oxycodone.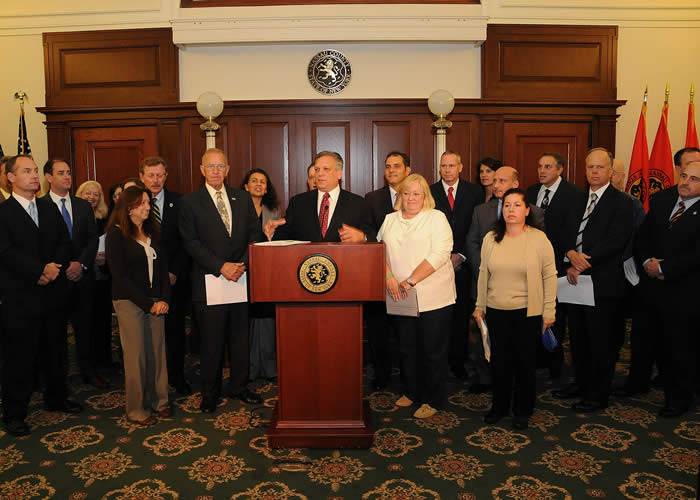 Statistics from the Centers for Disease Control and Prevention indicate that the abuse of prescription narcotics is on the rise and killed more people in 2010 than cocaine and heroin combined. The number of deaths due to prescription painkillers has officially surpassed the number of deaths caused by traffic accidents. In Nassau, 119 people died last year from prescription drug overdose.
"The statistics are startling," said County Executive Mangano. "We have a health crisis on our hands. Prescription drug abuse in Nassau County and throughout Long Island has reached epidemic levels. Too many of our young residents have died, and we're doing all that we can to stop it. I commend our Task Force members for all their efforts to save lives here in Nassau."
Last August, County Executive Mangano charged the committee with developing a number of local initiatives and potential state legislation to be advocated with New York State lawmakers.
Local initiatives recommended by the Prescription Drug Abuse Task Force include:
public awareness campaigns on the dangers of abusing prescription painkillers; campaigns will target parents, middle-school students, senior citizens and physicians;
awareness of untreated mental illness affecting many people with drug addictions
incorporating 12-step literature and philosophy into the county's drug abuse recovery efforts;
holding public hearings with stakeholders in various communities;
hosting regular unused and expired drug drop-offs; and
urging medical professionals to secure their prescription pads so they don't wind up in the wrong hands.
State legislation proposed by the group includes laws to:
toughen sentencing guidelines for drug-diversion programs;
require insurance companies to provide basic coverage for substance abuse treatment;
require people to present photo ID when picking up controlled substances at pharmacies; and
grant law enforcement direct access to the new I-STOP prescription drug monitoring system.
Task Force members also announced the success of their recommendations that have already been implemented in Nassau to combat prescription drug abuse including: the passage of the Internet System for Tracking Over-Prescribing Act (I-STOP) legislation; the reclassification of the drug Vicodin to make it more restrictive and harder to get large quantities; and mandatory continuing education and training for practitioners and pharmacists on the dangers of the misuse of prescription pain medication.
County Executive Mangano has taken additional steps to combat prescription drug abuse by implementing a countywide Overdose Prevention program. The program, which has had success in cities around the country, is based on the training of non-medical personnel to recognize the signs of an opiate overdose and administer Narcan - a medication that can save the person's life.