Mangano And North Shore Animal League Kick Off School Year With New Educational Opportunity
School Winner of Mutt-i-grees "America Adopts" PSA Contest to Receive Grant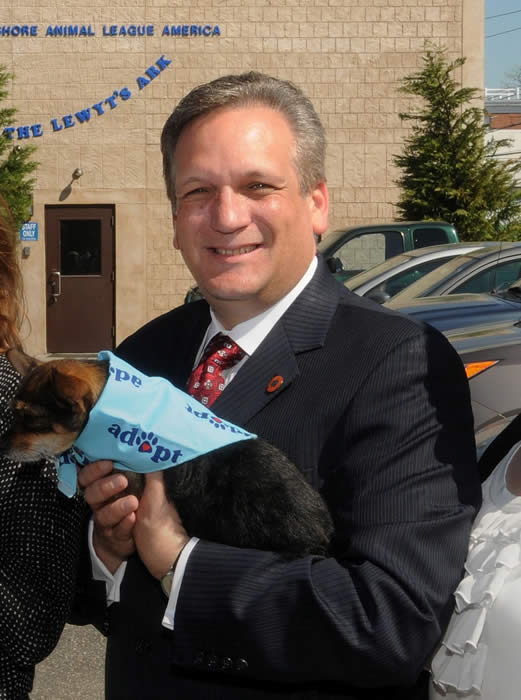 Kicking off the 2012-13 school year, Nassau County Executive Edward P. Mangano and NorthShore Animal LeagueAmerica announced a new educational contestthat encourageselementary and middle school students and teachers to participate in promoting pet adoption by creatingPublic Service Announcements (PSA).
County Executive Mangano stated, "There are so many pets in need of loving homes here onLong Islandas well as across the nation. This contest supports our belief thatthere needs to be better education about the humane treatment of animals as well as an opportunity to understand the social and emotional aspects of being a pet owner. Adopting a shelter pet is a rewarding experience with a multitude of lessons to be learned by children."
The Mutt-i-grees "America Adopts" PSA Contest is an extension of the Animal League's Mutt-i-grees Curriculum; an initiative thatbridges humane education with a social/emotional curriculum for Pre-K-12th grades. It is considered to be a unique approach to learning. The contest, which is open to students in Pre-K, Kindergarten and Grades 1-8, is intended to raise awareness of shelter animals and how the community can help with saving their lives and providing loving homes.
Schools are asked to submit a creative Mutt-i-grees PSA thatis a minimum of 60 seconds length and no longer than two minutes. It should be a compelling broadcast message thatlets people know whatanimals are available for adoptionatlocal shelters and convinces them that they should become adoptive families. The deadline for submission isOctober 26, 2012and additional information is availableat: http:/education.muttigrees.org/mutt-i-grees-america-adopts-psa-contest-2012.
North Shore Animal League will select the winning video. One school will win a $10,000 grant, a school visit by world-renowned dog expert, Cesar Millan, and a trip for four to North Shore Animal LeagueAmerica's Annual Rescue Gala inNew York Citywhere Mr. Millan will announce and present the check to the winning school. CountyExecutiveMangano will hold a brief awards ceremony in his office along with representatives of the North Shore Animal League.
"This will be a rewarding experience for all of those participating as it teaches our children to learn to respect all of the creatures on Earth," added County Executive Mangano.