Mangano Launches Neighborhood Watch On Wheels Initiative: Taxis On Patrol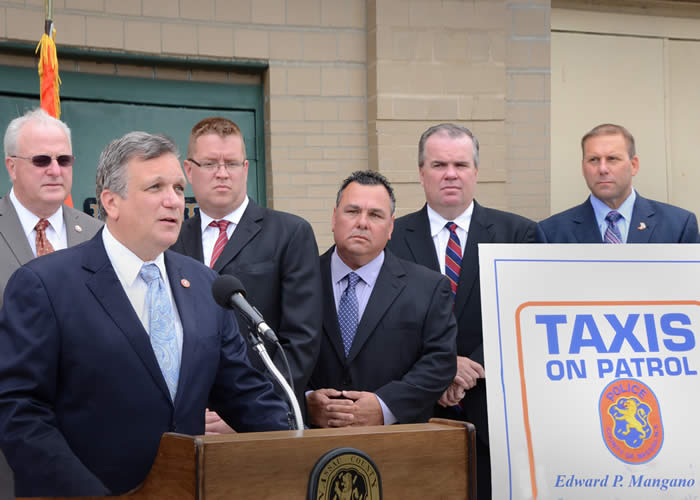 Nassau County Executive Edward P. Mangano and Police Commissioner Thomas Dale today announced a new voluntary Neighborhood Watch on Wheels program known as "Taxis on Patrol." "Taxis on Patrol" is a three pronged approach to combating crime and ensuring Nassau residents' quality-of-life. A variation of Neighborhood Watch, which relies on the vigilance of citizens to partner with public safety officials in reporting public safety incidents, Nassau's new initiative offers taxi drivers a training program and asks them to be on the lookout for suspicious behavior while they are traveling in and around the communities – day and night – and to report such behavior to the Nassau County Police Department (NCPD).
"We are utilizing an untapped resource by partnering with taxi drivers on our streets – best yet, it doesn't cost taxpayers a dime," said County Executive Mangano. "Building on Neighborhood Watch, which has been highly successful over the years, we will train taxi drivers to be alert at all times; to be observers of suspicious behavior and to report it to the police department."
In addition to NCPD training, taxis will be added to the department's Security/Police Information Network (SPIN system). This multi-dimensional crime prevention partnership between the NCPD and the private sector is a tool to increase public safety through the sharing of important and timely information involving anything from disruptions in public transportation and weather-related emergencies to fires and robberies. The email-based SPIN system, which currently provides critical, real-time information to educational institutions, hospitals, villages and city police departments, will be expanded to include the 39 taxi companies operating in Nassau as well as the NICE Bus.
The program also includes taxi driver and passenger safety initiatives by implementing the Taxi/Livery Robbery Inspection Program (TRIP). The program requires taxi drivers to adhere a sticker to their vehicle which indicates their consent to being pulled over by a Police Officer for a random safety check. This program ensures the safety of both the driver and passenger.
The "Taxis on Patrol" program is a voluntary partnership between private enterprise and local government which encourages stronger police and community relations and ensures the safety of drivers, passengers, and the community at-large. Meetings will be scheduled to introduce the program to all local taxi companies and provide owner/operator training.