Mangano Hosts Active Shooter Seminar For School Officials In Wake Of Newtown Tragedy
With security stepped up and families throughout the nation still on edge after the tragic Sandy Hook Elementary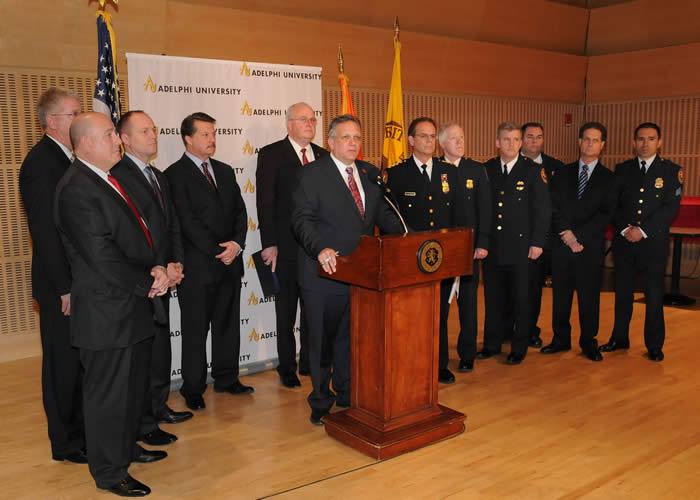 School shooting, Nassau County Executive Edward P. Mangano recently directed the Nassau County Police Department to host its fifth Active Shooter Seminar, which was held today at Adelphi University. The seminar was open to all private and public schools, as well as large corporations and hospitals. An active shooter is defined as an armed person who has used deadly physical force on other persons and continues to do so while having unrestricted access to additional victims. This could include deadly physical force by means of a gun, knife, or other weapons.
County Executive Mangano stated, "On behalf of Nassau County's 1.3 million residents, I express my deepest condolences to the victims and families of the terrible tragedy that took place at the Sandy Hook Elementary School in Newtown, Connecticut. While we all hope to never face such an active shooter situation, Nassau County is leading the nation in preparing school administrators. The safety of our children is of paramount concern and working with the Nassau County Police Department we will continue to advance preventative measures that enhance education and preparedness."
Today's Active Shooter Seminar was open to all 56 public school districts, private and parochial schools, libraries, as well as colleges and universities in Nassau County, as well as large corporations, to advise of the police response that will occur should an "Active Shooter" incident take place. While the topic was a sobering look at school violence and incidents such as the recent shooting at Sandy Hook Elementary School, the Columbine High School shooting and the Virginia Tech shooting, school officials will learn the significance of preparation, early detection and maintaining close contact with the police department. The seminar also explored the best practices and compared law enforcement and school protocols. The goal of the seminar was to ensure public safety by coordinating the County's protocols.