Mangano Breaks Ground For New Privately-Financed Sports And Recreation Facility In Eisenhower Park
Former NHL Players Ferraro Brothers' Twin Rinks Ice Center Complements Nassau's Sports-Entertainment Tourism Plan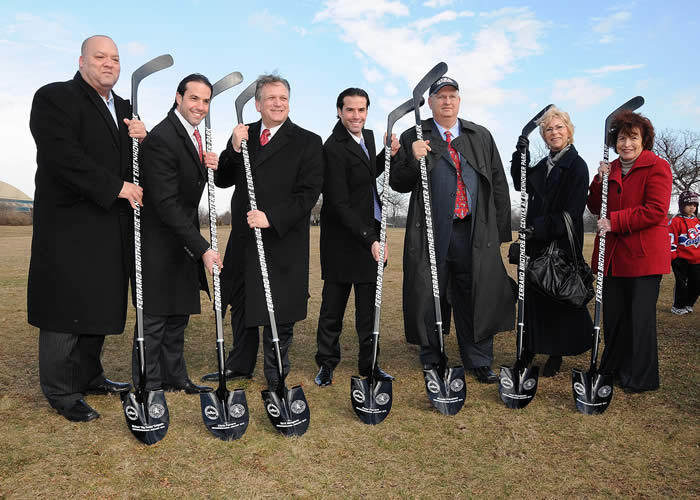 Building on his success of attracting a new privately-financed Expo Center to the Hub, Nassau County Executive Edward P. Mangano today broke ground on a new state-of-art sports and recreation center in Eisenhower Park that will also serve as home to at least two youth hockey organizations, including the Long Island Gulls Amateur Hockey Association and the New York Junior Bobcats. FerraroBrothers Ice Center atTwin Rinks, to be built without taxpayer dollars, is expected to create nearly 20 new jobs and generate an estimated $35 million in economic benefit for the local economy over the first five years of operation.
County Executive Mangano stated, "This new state-of-the-art sports and recreation center is an exciting component of the Hub that will create jobs, complement Nassau's sports-entertainment tourism plan and provide youth athletes access to world class skating facilities. I am delighted that Nassau County is able to partner with Chris and Peter Ferraro to bring this outstanding facility here. Creating this kind of sports entertainment destination will enhance our quality of life as well as create jobs and opportunities for residents."
Nassau County selected Twin Rinks at Eisenhower, LLC to construct the $15 million private-financed facility after issuing a Request-for-Proposals in June 2012. Twin Rinks at Eisenhower, LLC is comprised of former NHL players Chris and Peter Ferraro of Ferraro BrothersHockey,as well as Joel Friedman of Clearview Capital Management, LLC and Ronald Friedman of SilvermanAcampora, LLP. Their consultant, Richard "Big Daddy" Salgado of Coastal Advisors, was also on hand for the ground breaking of the facility.
To be completed in four stages, Twin Rinks at Eisenhower Park will include Ferraro Brothers Ice Center, an 85,000 square foot world-class facility with two NHL regulation-sized rinks and one outdoor recreational hockey rink that will host skating lessons, youth player development programs, tournaments, and hockey teams for all ages and skill levels. The facility will also include one full-size turf field with soccer and lacrosse lines, a sport court with four NBA/NCAA regulation basketball courts, a handball wall and a rollerblade and stroller path connecting the complex with the pre-existing paths that surround the Nassau County Aquatic Center.
The Ferraro brothers hope the new facility will provide youth players' opportunities never before seen on Long Island.
"It is our passion to support Long Island families so that they will no longer have to be torn apart or have their family life disrupted just because a child excels in hockey and wants to try to make it to the NHL," said Chris Ferraro. "This facility will enable us to create a hockey hot bed right here on Long Island."
"We were extremely fortunate that our parents had the means and the desire to take us where we needed to go to succeed. Because of our experiences, we are able to give back and guide young players along a path to develop, to teach the importance of camaraderie, sportsmanship and integrity without having to travel off Long Island," said Peter Ferraro.
Funded entirely by Twin Rinks at Eisenhower, LLC the center will be the home of at least two youth hockey organizations, including the Long Island Gulls Amateur Hockey Association and the New York Junior Bobcats. It will also play host to in-house figure skating programs, learn to skate programs, a recreational youth hockey league and adult hockey leagues.
"This is a great day for Nassau County and a great day for the sport of hockey," said Richard "Big Daddy" Salgado. "I grew up here and know there has never been anything like Twin Rinks. The County Executive is bringing so much to Nassau with this project. More jobs, a world class facility and hockey programs which will provide quality coaching for kids and adults and start turning more Long Island youth into NHL stars."
About Ferraro Brothers Hockey
Founded by twin brothers Chris and Peter Ferraro, Ferraro Brothers Hockey is dedicated to encouraging, supporting, and sustaining youth hockey awareness, safety, and education through on-ice training, off-ice instruction, charity events, and a presence in the community. With a combined 32 years of professional hockey experience, Chris and Peter Ferraro bring the knowledge and expertise garnered from their years spent in the NHL, AHL, IHL, Elite European Leagues, and the 1994 Olympics to numerous facilities across the tri-state area for one-of-a-kind hockey experiences. Having learned the game while playing alongside all-time greats such as Wayne Gretzky, Mark Messier, Brian Leetch, Pat LaFontaine and Jaromir Jagr, the Ferraros have developed a uniquely designed on-ice program to educate players of all ages and skill levels in an encouraging and enthusiastic environment.