COUNTY CLERK ATTENDS RETIREMENT CELEBRATION HONORING WINTHROP-UNIVERISTY HOSPITAL'S JOHN BRODER
(Garden City, NY) A dinner was recently held in honor of retiring Vice President of External Affairs and Development at Winthrop-University Hospital, John P. Broder. Mr. Broder has been in the development profession for 42 years. He was instrumental in establishing the marketing, advertising and public affairs department at the Hospital, and managed them for 20 years in addition to his fundraising and government affairs responsibilities.
Nassau County Clerk Maureen O'Connell along with State Senator Kemp Hannon and Legislator Richard Nicolello, took part in the celebration and shared with Mr. Broder their congratulations. He was presented with a Citation in recognition of this event and in honor of his great commitment to the community.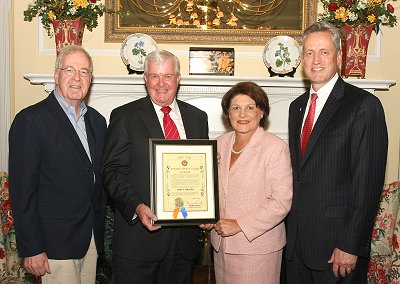 Pictured from left to right are Senator Kemp Hannon, Honoree John Broder, Nassau County Clerk Maureen O'Connell, and Legislator Richard J. Nicolello