COUNTY CLERK CELEBRATES IRISH AMERICANS IN GOVERNMENT HONOREES
(Mineola, NY) The Irish-Americans in Government recently held their 16th Annual Scholarship Reception at which they honored Catherin Tully Muscente of Rockville Centre and Owen B. Walsh, Esq. of Oyster Bay for their life-long dedication to government, community service and the preservation of Irish culture and custom. Catherine serves as the Director of The Irish Studies Institute at Molloy College. She also serves on the Board of Directors of the Rockville Centre St. Patrick's Day parade and is a member of the Baldwin Council of PTAs. Owen is a founding member of Irish Americans in Government and is a Past President. He served with distinction as the County Attorney in Nassau County and as Chief Deputy county attorney prior there to. His service in the County Attorney's office spans two decades.
The distinguished honorees were joined by family and friends, as well as area officials. Nassau County Clerk Maureen O'Connell took part in the celebration and expressed her congratulations, presenting the honorees with Citations in recognition of their great commitment, dedication and service to the community.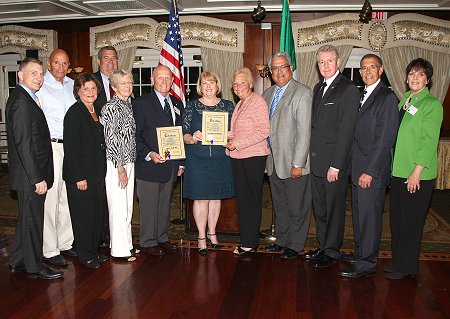 Pictured are District Court Judge Anthony Paradiso, NY State Assemblyman Harvey Weisenberg Nassau County Clerk Maureen O'Connell President of Irish Americans in Government Jeffrey Clark Dorothy Walsh Honorees Owen B. Walsh and Catherine Tully Muscente Nassau County Legislator Rose Marie Walker Town of Hempstead Councilman Anthony Santino Past President of Irish-Americans in Government Donal Mahoney Supreme Court Judge Peter Skelos and Past President of Irish-Americans in Government Maureen Fitzgerald