COUNTY CLERK MEETS WITH OCEANSIDE ROTARY CLUB
(Mineola, NY) Nassau County Clerk Maureen O'Connell, recently joined a meeting at the Oceanside Rotary Club to speak with members about the services the Clerk's office provides to residents. Among the services discussed was the recording of Veteran's Discharge Papers (DD-214) free of charge. As an incentive for veterans to take advantage of this service, Clerk O'Connell talked about the Nassau Veterans Recognition Program which offers them discounts at participating businesses throughout Nassau County for recording their discharge papers.
Clerk O'Connell also advised the residents about mass mailing solicitations for costly deed retrieval services, some of which would cost 1000% more than the Clerk's Office fees, and to disregard such offers. She cautioned homeowners about other types of scams the Clerk's Office has seen and initiatives undertaken to assist and protect homeowners against predatory scams. County Clerk O'Connell reminded residents it is not necessary to retain a service such as this to get a copy of your deed. Certified copies of deeds can always be obtained from the County Clerk's Office for $5 to $10. Anyone wishing to request a certified copy of their deed can contact Clerk O'Connell's office at 516-571-2664 for further information.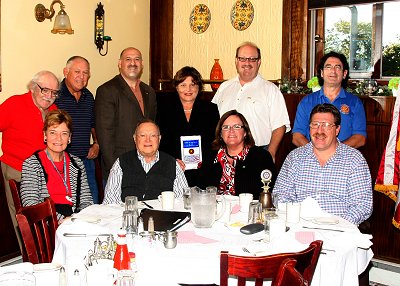 Phil Stein Marty Halpern Bruce Kester Nassau County Clerk Maureen O'Connell Oceanside Rotary President Honorable Jeff Toback Oceanside Rotary Vice President Elliot Liebner Gail Carlin Roger Folz Kim Kellar and Mark Harris