IRISH AMERICANS IN GOVERNMENT CELEBRATES EASTER MONDAY COMMEMORATION
(Mineola, NY) The Irish Americans In Government recently held their Annual Easter Monday Commemoration ceremony at the County Court House in Mineola. Each year at 12:00 noon, on the Monday following Easter, a commemoration ceremony is held to remember the Irish Easter Rising of 1916 and to honor the memory of those who have struggled for human dignity, human rights, and Irish unity.
At this year's commemoration ceremony, Nassau County Clerk Maureen O'Connell joined other area officials and community members in honoring those who have advanced the causes of peace with justice in a united Ireland.
Prominent members of the Irish community assembled with pipers and poets at the commemoration of this historical event.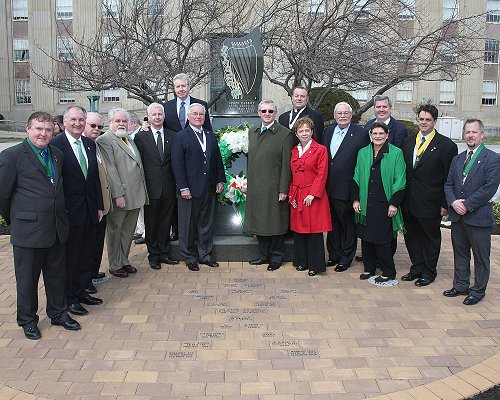 Pictured: Nassau County Board Ancient Order of Hibernians ("A.O.H.") President Mike Byrne, Nassau County Comptroller George Maragos, Past NYS District 6 Director A.O.H. Ed Friel, National Director A.O.H. Charles F. McLean Jr., Sean Crowe, Past President Irish Americans in Government Donal M. Mahoney, NYS Board Vice President A.O. H. Jim Burke, Counsel General Ireland Noel Kilkenny, Nassau County District Court Judge Joy Watson, NYS A.O. H. Chaplin Fr. Henry Ried, Irish Monument Committee Chairman Hon. Thomas Phelen, Nassau County Clerk Maureen O'Connell, President Irish Americans In Government Jeff Clark, National A.O. H. Web Master Joe McDonald, A.O.H. Organizer Jim Henry