NASSAU COUNTY HONORING AFRICAN AMERICAN PILOTS OF WORLD WAR II WITH THE RENAMING OF ROADWAY TO "TUSKEGEE AIRMEN WAY"
(Mineola, NY) Nassau County Clerk Maureen O'Connell joined Nassau County Executive Ed Mangano and other area officials in a ceremony honoring African American pilots of World War II by renaming a portion of Oak Street between Commercial Avenue and Hempstead Turnpike into "Tuskegee Airmen Way."
The Tuskegee Airmen were an elite group of pilots in the 1940s. They were pioneers in equality and integration of the Armed Forces. The term "Tuskegee Airmen" refers to all who were involved in the Army Air Corps program to train African Americans to fly and maintain combat aircraft. The Tuskegee Airmen included pilots, navigators, bombardiers, maintenance and support staff, instructors, and all personnel who kept the planes in the air.
Community residents joined Veterans, military personnel and area officials to commemorate this historic occasion.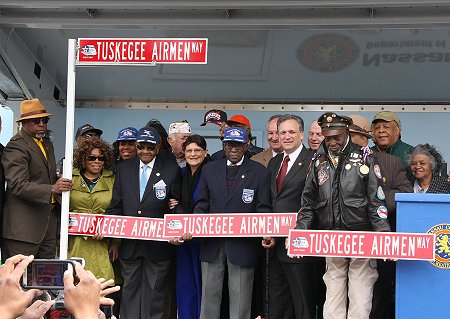 Pictured Tuskegee Airmen William Johnson, Audley Coulthurst and Julius Freeman are joined by area officials for the street renaming