COUNTY CLERK SPEAKS AT NASSAU COUNCIL OF
CHAMBERS OF COMMERCE MEETING
(Mineola, NY) Nassau County Clerk Maureen O'Connell was a guest speaker at the general membership meeting of the Nassau Council of Chambers of Commerce. Clerk O'Connell spoke with members about the services the Clerk's office provides to the community including the processing and maintenance of the County's land and court records, and how to file business papers at the Clerk's Office. Another service discussed was the recording of Veteran Certificate of Release and Discharge (DD-214) papers free of charge. As an incentive for veterans to take advantage of this service, Clerk O'Connell talked about the Nassau Veterans Recognition Program which offers Veterans discounts at participating businesses throughout Nassau County for recording their discharge papers. The Nassau Council of Chambers of Commerce in cooperation with the Clerk's office will be issuing "Decals" to be placed in the windows of local businesses participating in the County Clerk's Veteran Discount Program. Chamber members were encouraged to enroll their businesses in the Veterans Discount Program. "It is a great opportunity for local businesses to expand their customer base and support the local economy, while showing appreciation to our veterans for their dedicated service to our country" the Clerk stated.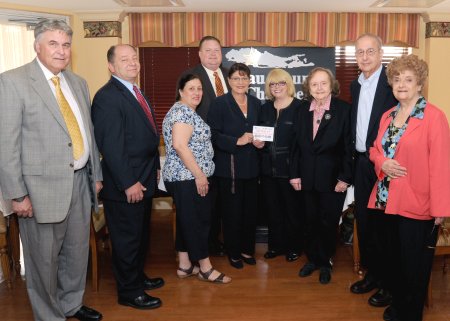 Pictured are NCCC Member James Pavone, NCCC Treasurer Ken Jacobsen, NCCC Second VP Ginny McClean, Christopher Brown, Nassau County Clerk Maureen O'Connell, NCCC President Julie Marchesella, Legislative Chairperson Sylvia Chernow, Executive NCCC Board Member Dennis Grossman and NCCC Corresponding Secretary Angela Powers