COUNTY CLERK ATTENDS FLAG DAY CEREMONY AT ABBEY LANE SCHOOL
(Mineola, NY) Nassau County Clerk Maureen O'Connell joined other area officials, first graders and faculty for the Flag Day Celebration at Abbey Lane Elementary School in Levittown. The children celebrated many things about our flag and country. With their teachers guidance the students sang patriotic songs and shared interesting information with the audience about our Nations flag.
Clerk O'Connell is pleased to provide area schools with brochures about our Great Nations Flag and the proper etiquette to be observed to show respect to it.
A key to understanding our Nation's history can be found in the evolution of our 'Stars and Stripes'. The American Flag is a symbol of the freedoms and liberties we as a country have fought for and defended throughout our rich history. Teaching our children the traditions of our flag and how to display proper reverence towards it is an important part of their learning experience.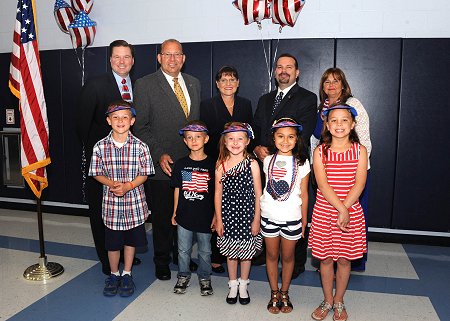 Pictured are Councilman Gary Hudes, Assemblyman Thomas McKevit, Nassau County Clerk Maureen O'Connell, Abbey Lane Principal Dr. George Maurer, Teacher Sue Harrington, Maura, Ana, Carolina, Cody and Sauer