COUNTY CLERK O'CONNELL JOINS IN HONORING LONG ISLAND POSTAL WORKERS WHO HAVE SERVED IN OUR FORCES
(Mineola, NY) Nassau County Clerk Maureen O'Connell and other area officials joined U.S. Postal Service in honoring Long Island postal workers who are also U.S. military service veterans. A Veterans Wall was unveiled at the Western Nassau Processing and Distribution center in Garden City in recognition of the facility's many military veteran employees.
The wall features two American flags and the names of the five, active duty services: Army, Navy, Marines, Air Force, and Coast Guard. The memorial serves as a tribute to all the men and women who have served our Great Nation.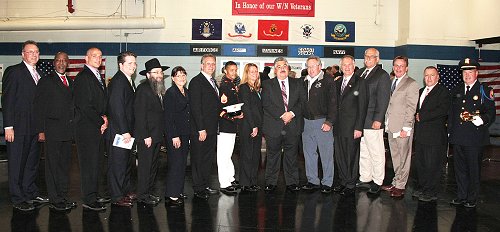 Pictured with Post Office Officials and Veterans are Plant Manager of Processing and Distribution Center Mychal Sledge, Rabbi Anchelle Perl, Nassau County Executive Edward Mangano, Nassau County Clerk Maureen O'Connell, Nassau County Comptroller George Maragos, Nassau County Legislator Dennis Dunne, Chris Chaffee, and Mail Workers Union President Peter Bilotte
(Click photo for larger view)