COUNTY CLERK INSTALLS VILLAGE OFFICIALS ASSOCIATION OFFICERS
(Mineola, NY) The Nassau County Village Officials Association (NCVOA) recently held their Annual meeting, Election and Installation of Officers. Nassau County Clerk Maureen O'Connell was on hand to swear in NCVOA President and Village of East Williston Mayor David Tanner along with other members of the Executive Committee. Each of these Mayors have been recognized by their colleagues for their continued service to their communities. Clerk O'Connell also thanked outgoing NCVOA President Ralph Kreitzman for his outstanding dedication to this fine organization and congratulated the newly installed officers.
Founded in 1925, NCVOA is comprised of the 64 Incorporated Villages in Nassau County with nearly 435,000 residents. The organization serves as an advocate for municipal governments and residents on local, state and national levels and provides village officials with a forum for exchanging ideas and experiences in the administration of their municipal duties.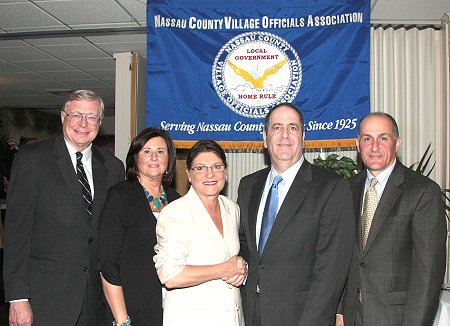 Pictured are Mayor of the Village of Old Brookville and NCVOA Treasurer Bernard Ryba, Mayor of the Village of Plandome Manor and NCVOA 1st VP Barbara Donna, Nassau County Clerk Maureen O'Connell, Mayor of the Village of East Williston and NCVOA President David Tanner and Mayor of the Village of Westbury and NCVOA 2nd VP Peter Cavallaro