LOCAL OFFICIALS ATTEND OYSTER FESTIVAL
(Mineola, NY) Nassau County Clerk Maureen O'Connell joined other local officials to participate in the festivities at the 30th Annual Oyster Festival sponsored by the Oyster Bay Rotary.
The festival originated as a hometown parade honoring Theodore Roosevelt before evolving into the East Coast's largest waterfront festival attracting more than 200,000 visitors to downtown Oyster Bay.
The festival provided an enjoyable, fun filled day for families and friends with something for people of all ages including live entertainment, Tall Ships, pirate shows and the iconic oyster eating and shucking contest.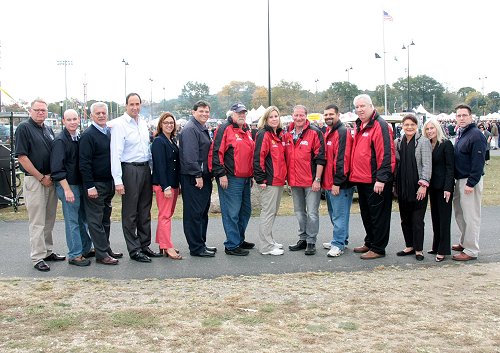 Pictured: Town of Oyster Bay Officials: Councilman Anthony Macagnone, District Court Judge Joy Watson, Supervisor John Venditto, Town Clerk James Altadonna, Councilwoman Michele Johnson, Councilman Joe Pinto, Oyster Festival Coordinator Len Rothberg, Oyster Festival Co-Chairs Kristen Rearon and Paul Rosen, Oyster Bay Rotary Member Don Lyons, Nassau County Clerk Maureen O'Connell, District Court Judge Rhonda Fischer, Oyster Bay Water District Commissioner Don MacKenzie