(Mineola, NY) Nassau County Clerk Maureen O'Connell recently joined a meeting of the Mineola Chamber of Commerce as guest speaker to discuss the services the Office of the County Clerk provides to local businesses and residents.
Among the informative topics covered, Clerk O'Connell described the process of filing D/B/A (Doing Business As) papers at the County Clerk's Office to start a business. She also invited members of the Chamber to sign on to the County Clerk's Veterans Recognition Program. This program, started by Clerk O'Connell, offers discounts on goods and services at participating businesses to Veterans when they record their discharge papers with the Clerk's Office. Additionally, Ms. O'Connell made members aware of her new initiative to conveniently record Veterans' discharge papers on site at Veterans group meetings.
Clerk O'Connell also advised chamber members about mass mailing solicitations for costly deed retrieval services, some of which cost 1000% more than the Clerk's Office fees, and to disregard such offers. She cautioned members about other types of scams the Clerk's Office has seen and initiatives undertaken to assist and protect homeowners against predatory scams.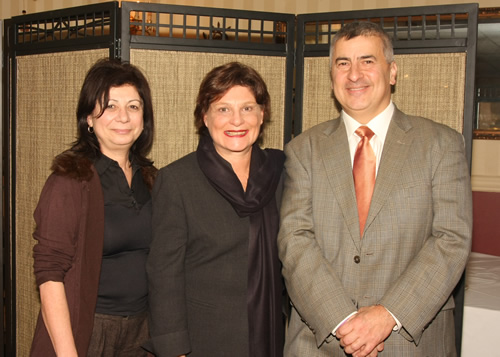 Pictured (left to right) are Mineola Chamber of Commerce 1st VP Carmela Bernaccio, Nassau County Clerk Maureen O'Connell, and Piccolo Bussolo owner Tony Lubrano.