(Mineola, NY) County Clerk Maureen O'Connell joined local officials, members of Veterans groups and members of the Mineola Fire Department in honoring Veterans for their sacrifices in service to our country at a Veterans Day Ceremony at Mineola Memorial Park.
The County Clerk's Office acknowledges Veterans by providing them with many benefits throughout the year. The County Clerk records and secures Veterans Discharge Papers (DD-214) free of charge so that Veterans and their families may obtain a certified copy of these vital records should the need arise. In honor of Veterans Day, this November Clerk O'Connell launched a new outreach program, bringing the County Clerk's Office on site to Veterans groups to record members' Discharge Papers. This new program builds upon the Veterans Recognition Program established by Clerk O'Connell last year. Veterans are issued a discount card for goods and services at local businesses when their DD-214 is recorded.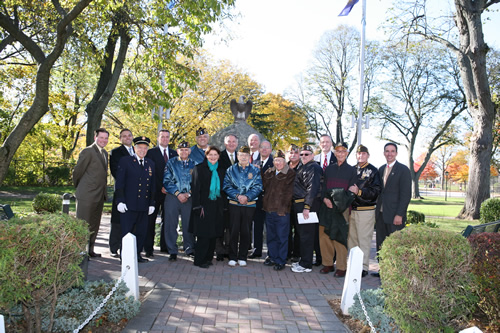 Pictured (left) are NYS Assemblyman Thomas McKevitt, Mineola Village Trustees, members of Mineola Fire Department; (center) Nassau County Clerk Maureen O'Connell with members of VFW Adolph Block Post 1305 and American Legion Mineola Memorial Post 349; (center, right) Nassau County Comptroller George Maragos, Mineola Deputy Mayor Larry Werther; (fourth from right) Nassau County Legislator Richard Nicolello; (right) Mineola Mayor Jack Martins.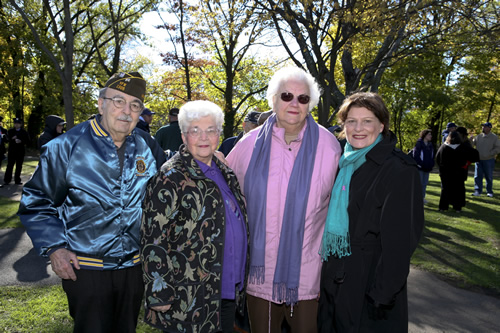 Pictured (left to right) are Ray Vaz, Ann Vaz (President of Ladies Auxiliary of American Legion Post 349), Arlen Cavanaugh (VP of Ladies Auxiliary of American Legion Post 349) and Nassau County Clerk Maureen O'Connell.