Mineola's newest Mayor, the Honorable Scott Strauss, was recently sworn into office by Nassau County Clerk Maureen O'Connell. Celebrating and acknowledging the new Mayor, Ms. O'Connell spoke in recognition of his outstanding dedication and ongoing service to the community.
A life-long Mineola resident, Scott Strauss is a 9/11 first responder who retired in 2004 as a Detective with a distinguished 20-year career in the New York City Police Department. Currently Corporate Director of Security and Emergency Management for the North Shore – LIJ Health System, Scott has also served the Mineola community throughout his life, as a volunteer fire fighter, Boy Scouts assistant scoutmaster, member of the Mineola Volunteer Ambulance Corps, and coach with the Mineola Athletic Association.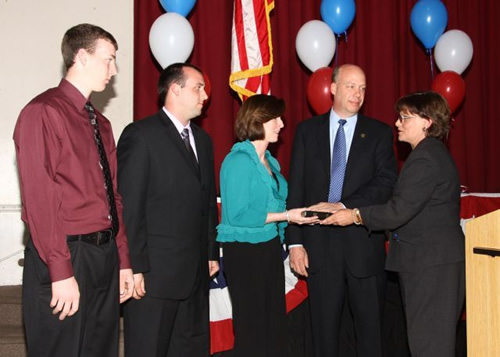 Pictured with Nassau County Clerk Maureen O'Connell are Mayor Scott Strauss with wife Pat and sons Brian and Christopher.