Nassau County Clerk Maureen O'Connell recently joined a meeting of the Sperry Retirees Council in Manhasset to speak with members about the services the Clerk's Office provides to residents. The Sperry Corporation, headquartered in Lake Success, led the development of advanced technological devices through seven decades of the twentieth century, and later became Unisys, the second largest provider of information technology services in the world.
Among the services Clerk O'Connell spoke about was the free recording of Veterans Discharge Papers (DD-214) at the County Clerk's Office and the Clerk's convenient new program to record these essential papers on site at senior and Veterans group meetings. Clerk O'Connell also discussed the Nassau Veterans Recognition program which offers Veterans discounts at participating businesses throughout the County for recording their discharge papers.
In addition, Clerk O'Connell advised members about mass mailing solicitations for costly deed retrieval services, some of which cost 1000% more than the Clerk's Office fees, and to disregard such offers. She cautioned homeowners about other types of scams the Clerk's Office has seen and initiatives undertaken to assist and protect homeowners against predatory scams.
For information on these and other initiatives by the Nassau County Clerk, please call the Office at (516) 571-2664.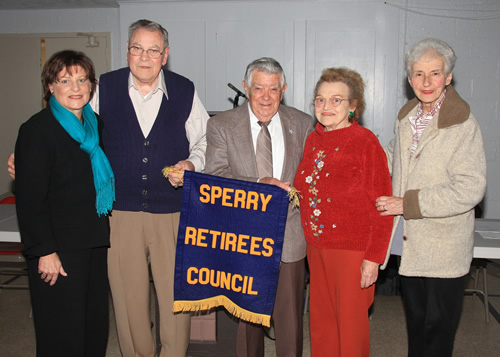 Pictured (left to right) are County Clerk O'Connell with Sperry retirees Al Pascola, Richard Hochbrueckner, Joan Tonnies and Rosanna Eppler.