Nassau County Clerk Maureen O'Connell recently hosted a group of students from the Hofstra University Paralegal Studies Program for a discussion and tour of the departments of the County Clerk's Office. The County Clerk's Office is Chief Clerk of Nassau's Supreme and County Courts, processing documents related to civil proceedings and registering all real property records in the County. Paralegals offer essential services to attorneys and the legal community, oftentimes conducting business within the Clerk's Office. Clerk O'Connell provided the students with a real world understanding of how their studies apply to the legal process.
The Hofstra University Paralegal Studies Program is under the direction of Judge Edward McCabe. A former Justice of the New York State Supreme Court, Judge McCabe served as Administrative Judge of Nassau County and Presiding Justice to the Appellate Term.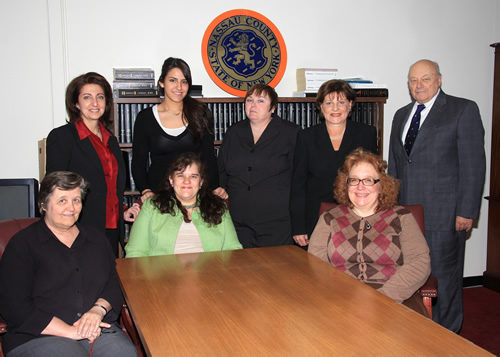 Pictured with County Clerk Maureen O'Connell are Honorable Edward G. McCabe and Associate June Mullan, and students Patricia Haggerty, Alexa Galanakis, Diane Puchta, Deborah Barletta, and Ana Martinez.