Members of the Irish-Americans in Government (IAIG) recently celebrated their Irish-American heritage as marchers in the Irish American Society of Nassau, Suffolk and Queens St. Patrick's Parade through the streets of Garden City and Mineola.
National Heritage Fellow and acclaimed Irish step dancer Donny Golden was Grand Marshal of this year's parade. The crowd cheered as members of the IAIG, Irish American Society and other organizations marched. Bagpipers played and talented students from the Donald Golden School of Irish Dance performed lively step dance routines.
Pictured with Irish Americans In Government banner (center) are Nassau County Clerk Maureen O'Connell, with IAIG member Maureen McCormack, Garden City Deputy Mayor Donald Brudie, Jerry Tanner, Executive Assistant to the Nassau County Commissioner of Consumer Affairs Kenneth M. Heino, Deputy Nassau County Comptroller Joy Watson, IAIG VP Jeff Clark, Grand Marshal Donny Golden, President of the Irish American Society Betty McLoughlin, and Parade Chairperson Patrick Kerins.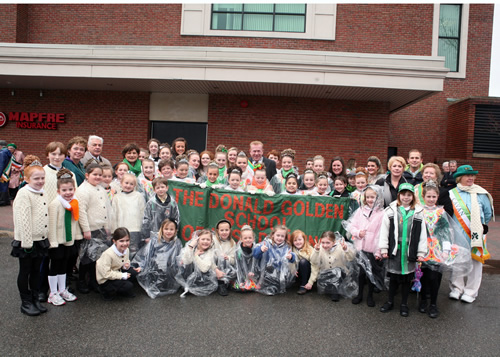 Pictured with Donald Golden School of Dance banner and students are Nassau County Clerk Maureen O'Connell, Maureen McCormack, Garden City Deputy Mayor Donald Brudie, Ilene Cronin, Jerry Tanner, Executive Assistant to the Nassau County Commissioner of Consumer Affairs Kenneth M. Heino, Deputy Nassau County Comptroller Joy Watson, Grand Marshal Donny Golden, and Irish American Society President Betty McLoughlin