(Mineola, NY) Nassau County Clerk Maureen O'Connell recently assisted in the distribution of new children's outerwear collected by the not-for-profit organization Kids Helping Kids by Kids Way, Inc. of Old Bethpage. Kids Helping Kids, operated by kids and supervised by adults, encourages philanthropy in young people.
Kids Helping Kids' Executive Director Bob Eslick leads the "Making a Warmth of Difference" campaign, now in its seventh year. Bob and his group spend countless hours collecting brand new winter clothing for needy families and children. Kids Helping Kids works with several Long Island agencies to provide this vital benefit to area families most in need. The not-for-profit Education and Assistance Corporation (EAC), based in Hempstead, is one of these agencies.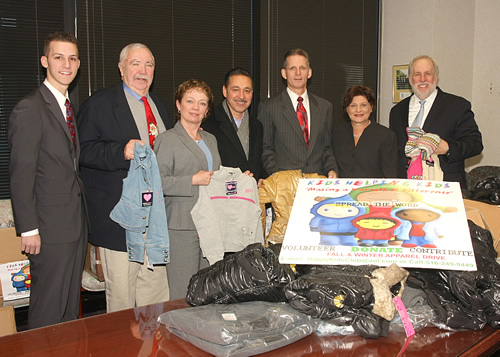 Pictured at the EAC (from left to right) are Philip Eslick, co-founder of Kids Helping Kids, Judge Maris, Deputy Nassau County Comptroller Joy Watson, Angelo Giannuzzi, owner of Tesoro Restaurant, Bob Eslick, Executive Director of Kids Helping Kids, Nassau County Clerk Maureen O'Connell, and EAC President and CEO Lance W. Elder.