January 1, 2010
INAUGURAL REMARKS: NASSAU COUNTY EXECUTIVE EDWARD P. MANGANO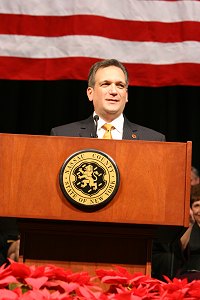 During the campaign, I promised when elected that--on day one--I would repeal the home energy tax.
The document I just signed makes good on my promise and that of my Republican colleagues, and the home energy tax is hereby repealed.
I want to take this opportunity to welcome everyone and to wish you all a Happy and Healthy 2010! As I look out into this crowd, I am overwhelmed and humbled to see so many of my family, friends, and colleagues here to share in this special ceremony. I thank each and every one of you for your support, dedication and help.
I want to thank Chairman Joseph N. Mondello, the Nassau County Republican Committee and the many groups that formed to spread our message, like Conservatives for Mangano, Democrats for Mangano, Firefighters for Mangano, Latinos for Mangano and the hundreds of dedicated volunteers who gave their time and energy on our behalf.
I want to take a moment to express my love and thanks to my Mom and Dad, Rachel and John Mangano for making me believe that nothing was ever impossible.
I also wanted to say hello to my grandmother Elinor who is watching at home and who I love very much -- Hi Mama, you're the best!
Special thanks to my sons, Sal and Alex. I am so proud of both of you. Thank you for giving me the best job I could ever have -- being your dad. I love you guys!
And to my secret weapon, my wife Linda I can only say that I love you more than you could ever imagine and that you are one in a million. Thank you for being my best friend and biggest supporter.
To our great Senator Charles Schumer, we appreciate your coming today and making Nassau your first stop in 2010. By being a part of this inaugural celebration, you are letting us know that you will remember Nassau County's needs while you are in Washington, D.C. We are going to need your help.
Nassau County's own Congressman Peter King, thank you for taking a role in this ceremony. You have always been there for us, and we are certainly going to need your help in the months to come. Your work helping keep America safe is immeasurable, as is your support of the men and women in the armed forces.
I also want to thank Congressman Steve Israel, who is returning from Afghanistan. The commitment you have exhibited fighting for veteran's rights is an inspiration.
On my watch and with your help, and in partnership with North Shore LIJ, NUMC and all other county hospitals and social service providers, we will work hard to ensure that no veteran will be homeless, or go hungry. This is the very least we can do to say thank you for their sacrifices.
I would also like to acknowledge our State Senators, Minority Leader Dean Skelos, Craig Johnson, Carl Marcellino, Charles Fuschillo and Kemp Hannon.
Also, I would like to welcome members of the NYS Assembly--Deputy Speaker Earlene Hooper, Harvey Weisenberg, David McDonough, Joseph Saladino, Robert Barra, Tom McKevitt, Thomas Alfano, Michele Shimel and James Conte--Nassau County is going to be asking for your help and that of the state in resolving the severe fiscal issues we have inherited. I'm going to be seeking your counsel and support.
To my partners in local government, Town Supervisors, Kate Murray and John Venditto, thank you for joining me today.
My colleagues, Presiding Officer Peter Schmitt and Minority Leader Diane Yatauro and members of the legislature. We have much work to do, and we must do it together. It was a privilege to serve with you in the legislature, and I look forward to ringing in a new era of bi-partisan cooperation.
Special thanks to Superintendent of Schools Terrence Clark, the Bethpage Board of Education and administration, along with a tireless custodial crew who opened their doors to me and allowed a 1980 graduate to return home today for this celebration.
Nearly fifty years ago, President John F. Kennedy promised that America would land a man on the moon and return him safely to Earth. That promise gave us hope in our future and made our Nation believe in something beyond the routine of everyday life. That promise was made a reality just 3 blocks from here -- by the men and women of Grumman.
On July 20, 1969, the Grumman lunar module Eagle landed on the surface of the moon, carrying Neil Armstrong and Buzz Aldrin into the pages of our history books, and Nassau County led the way.
Today I am so honored to be speaking to you from another place where Eagles soar -- Golden Eagles that is -- at Bethpage High School. Eagles do not land or soar without the faith and trust we as citizens place in our leadership.
Leadership that inspired ordinary people to reach extraordinary achievements. For every American carries with them the dedication, devotion, and dreams of our founding fathers in the Declaration of Independence. It is with that same faith and trust in leadership, that same dedication and devotion that brings me to this podium before you today.
We are all too familiar with the impact of defense industry downsizing. That downsizing resulted in the loss of thousands of jobs and millions of dollars in tax base. As a legislator, my priority was to assist in the redevelopment of the Grumman property, and to turn unused facilities into jobs for our neighbors.
Today, I am proud to report that over 15,000 jobs have been returned to the property, with millions of dollars in tax revenues being generated for Nassau County. The success of that effort, which is due to the work of many, is the result of a partnership between the community, government and the private sector. We should all take great pride in knowing we played a role in that success.
Nassau County is a remarkable place.
For more than a century, it has been a place of opportunity, with each generation leaving a better quality of life for its children. Our County has long been a welcoming place for immigrants from all lands and has symbolized the American Dream.
It provided me with important opportunities.
I am proud to have worked as a janitor to put myself through Hofstra University. I went on to earn my law degree there and started a small business.
Nassau has always been a welcoming place for immigrants and where many have realized the American Dream. Nassau County is still a great place to live, work and raise a family. However, our county is facing some very tough times, having taken on unsustainable debt obligations, having long subsidized Albany and Washington, having overtaxed our residents and small businesses and having mortgaged the fiscal future of Nassau County.
In November, Nassau's voters let it be known they had enough. They voted for change. That is why I am standing here today and why I am so honored to be given this opportunity.
Nassau is among the most highly taxed counties in the nation. The 2010 budget approved last year is filled with one-shot, temporary stop-gaps. In 2011, the problems will become even more serious. Nassau County could be facing a deficit in excess of $400 million.
As I campaigned throughout Nassau County, I met ordinary people -- whether it was at supermarkets, at village fairs, at railroad stations or at town meetings. And not all of those faces were smiling. In fact, a lot of them were lined with worry and creased with concern. And they had every right to be.
For some, it was the worry of losing a job. For many, it was the high taxes imposed on them by government. To help them, many things need to change, but the granddaddy of them all is the Nassau County Real Property Tax Assessment system. Nassau County's system of property assessment has played a catastrophic role in our County's current fiscal turmoil. It is because of this system that Nassau taxpayers and future generations are indebted for over $1.2 Billion for past errors. And, in 2010 the county is projecting that another $100 million will be paid for prior years' errors.
We simply cannot survive if the system is allowed to continue this way, which is why I have signed an Executive Order which outlines certain short-term steps that will immediately reduce the cost of our flawed assessment system.
I have created an Assessment Reform team that will be comprised of residential and commercial property owners. The team will hold public hearings around Nassau and will deliver a report directly to me no more than six months from today.
It was the desire to solve these issues that helped me answer the good natured question that even some of my best friends asked me during my campaign: "Ed, are you really sure that you want to win this?" For me, the answer was simple -- Yes!
I have an obligation - not only to my sons - but your sons and daughters as well. I need to ensure the County I leave behind is better than the one I borrowed from them. There's too much at stake not to try. There's too much at risk if we fail.
Long Island has been too good to my family for me to just sit by and do nothing. I do believe that we can make a difference and make things better. We can--and will do it together.
Every Nassau resident can and must contribute to the solution here in Nassau County. As County Executive, I am leading the way by shrinking the size of the County Executive's staff. We can simply no longer afford the county government we inherited.
I am often asked how I will lead Nassau County to these solutions. It has been said "Democracy is based upon the conviction that there are extraordinary possibilities in ordinary people." I believe the art of leadership is to unlock those extraordinary possibilities in each of us.
I will bring together the private sector, Nassau County government from both sides of the aisle, our partners in state, local and federal government, organized labor and the not-for-profit sector.
Growth will be driven by our green energy fund, and by small and emerging businesses, many of which will create jobs out of research done by places like the Feinstein Institute at North Shore LIJ, the soon to be completed Hofstra Medical School, New York State Sponsored Center for Homeland Security, Cold Spring Harbor Lab which we share with Suffolk and Island-wide institutions like Stony Brook University and Brookhaven National Lab. Those jobs will help address the Brain Drain and keep Nassau's brightest graduates here.
Many of the issues I speak about today are Island-wide, and not limited to Nassau County. I have already met with Suffolk County Executive Steve Levy to explore ways we can join forces for the betterment of the entire region. We can--and will do it together.
The leadership I believe in recognizes that one person alone doesn't make it happen. You're part of a team, and when you work together, the job will always get done and great things can be accomplished.
So, as we start our work today, it's clear that some things need fixing, some things need cleaning up, and still other things need a bit more polishing. It'll take the collective efforts of everyone in this county and on both sides of the aisle. It will take hard work, understanding, cooperation and communication. We can--and will do it together.
I learned a very valuable lesson about the power of optimism reading a book to children at my son's elementary school some years ago. To quote Dr. Seuss, "We will succeed -- yes indeed -- 98 3/4 percent guaranteed"!
I am honored to be your County Executive and to be given this opportunity to serve. Abe Lincoln once said "Whatever you are, be a good one." Well, I promise to be a good one!
God bless America, Nassau County and all of you in the coming New Year. And, thank you all for sharing in this special day.