Mangano Announces Installation Of Historic Roadside Marker At The Former Home Of William Cullen Bryant
Nassau County Executive Edward P. Mangano, Town of North Hempstead Supervisor Jon Kaiman, Town of North Hempstead Historian Howard Kroplick, President of Friends of Cedarmere John B. Dawson, Jr., Executive Director of the Roslyn Landmark Society Franklin Hill Perrell, and Legislator Wayne Wink are pleased to announce the installation of a historic roadside marker at Cedarmere, the former Roslyn Harbor home of William Cullen Bryant (1794-1878). The home of William Cullen Bryant served as a location for artists and writers to travel to in the mid-1800's to consult with Bryant, a well-known writer and critic.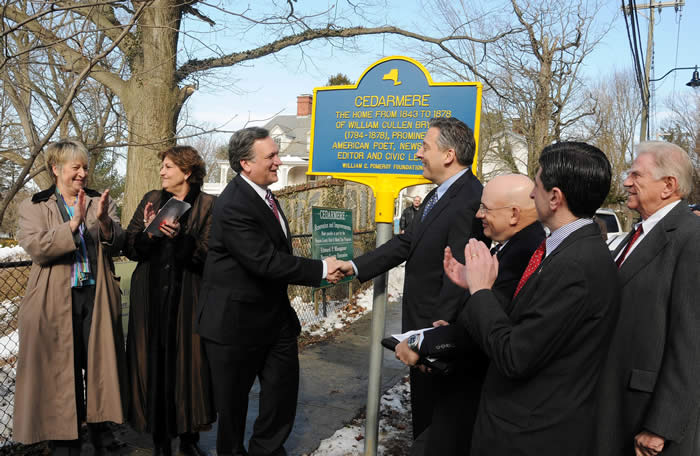 Considered the foremost American poet of his day, with poems such as "Thanatopsis," "To a Water Fowl," and "The Battlefield," Bryant was also an attorney, newspaper editor and civic leader. Born on November 3, 1794 in Cummington, Massachusetts, Bryant was the son of a poetry-loving physician Peter Bryant. His mother Sarah Snell was descended from a Mayflower family who settled in Plymouth, Massachusetts. At the age of 16, in 1810, he entered Williams College in Williamstown, Massachusetts. After distinguishing himself in language and literature, Bryant withdrew from college to study law. After three years of preparation, he was admitted to the bar in 1815. Bryant practiced in Plainfield and Great Barrington, Massachusetts, but he was more inclined to literature than the law.
The international acclaim received by Bryant's poem "Thanatopsis" in 1817 led him to abandon law. In 1825, he became editor of the New York Review and moved to New York City. The following year he joined the New York Evening Post and subsequently became editor-in chief and part owner from 1829 to his death. This position afforded him enormous influence on national affairs, and his early support for the fledgling Republican Party in the 1850's helped insure the party's success. In February 1860, Abraham Lincoln wrote: "I have seen what all the New York papers said about that thing of mine in the Cooper Institute with the exception of the New York Evening Post and I would like to know what Mr. Bryant thought of it....It is worth a visit from Springfield, Illinois, to New York to make the acquaintance of such a man as William Cullen Bryant."
Cedarmere was originally a farmhouse built by Quaker Richard Kirk in 1787. William Cullen Bryant purchased the estate in 1843 as a country retreat from New York City and changed its name to Cedarmere. Bryant wrote much of his later romantic poetry in Cedarmere's library. Prominent in social, charitable and civic endeavors, Bryant's last literary venture was a translation of Homer's Illiad and Odyssey into English blank verse (published from 1870 to 1872).
Bryant added extensive Victorian Gardens with the assistance of leading landscape architects of the era including Frederick Law Olmstead, designer of Central Park. In the 1840's, Bryant led a movement to establish a New York City Park which eventually led to Central Park. In 1975, the New York Times noted: "The Victorian natural-looking gardens of Cedarmere are a manifestation of his love of nature and gardening. The gardens remain one of the most picturesque survivals of mid-19th Century landscaping."
Cedarmere was a magnet for writers and artists seeking Bryant's company. Prominent visitors to Cedarmere included; actors Edward Booth and Edwin Forrest, author James Fenimore Cooper, inventor Samuel Morse, poet Richard Henry Dana, artists Thomas Cole, Daniel Huntington, Robert Weir and Asher Durand, sculptor Horatio Greenough, landscape architect Frederick Law Olmsted and many political leaders of the day. Bryant died in Manhattan in 1878 and was buried next to his wife in the Roslyn Cemetery, Roslyn, New York near his Cedarmere home. The property was left to his two daughters, Mrs. Parke Godwin and Julia Sands Bryant. The entire property eventually passed into the hands of Parke Godwin's only surviving son, Harold Godwin.
On November 15, 1902 fire destroyed the upper levels of the house. Most of the valuable books and furnishings were saved and all original first floor framing still remain today with a major part of the original flooring. Harold Godwin restored the building and continued to live there until his death in 1931. The estate was inherited by his daughter Elizabeth Love Godwin. She lived there until her death on July 6, 1975. Elizabeth Godwin bequeathed the home and property and a gifted a $100,000 trust fund to Nassau County.
A museum was opened in 1994 by Nassau County in honor of the 200th anniversary of William Cullen Bryant's birth. Cedarmere is currently closed for renovation but visitors may still enjoy walking around the grounds during daylight hours.