Rabbi From The Five Towns Joins Mangano In Showcasing Gold's Pure Food Products As Passover Approaches
Manufacturer of Quality OU Certified Kosher Products for Almost 80 Years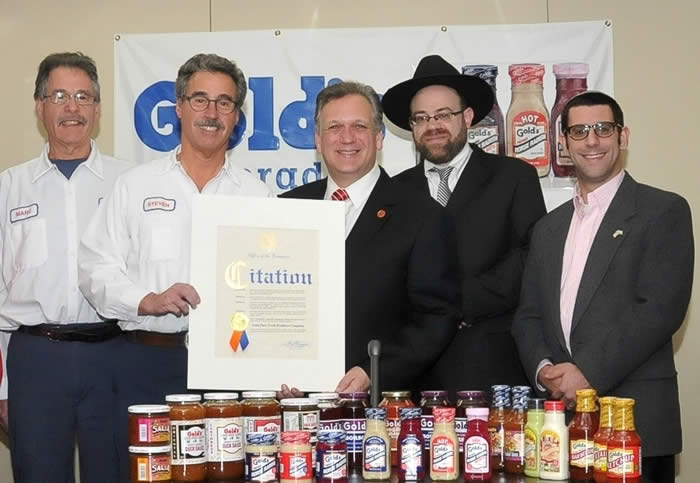 Nassau County Executive Edward P. Mangano was joined by Rabbi Cohen and David Newman, Executive Director of the Jewish Community Relations Council, as he cast a spotlight on Gold's Pure Food Products Company as the county's "Business of the Month" today at the Hempstead manufacturing plant and headquarters they have occupied since 1993.
Gold's, whose horseradish is a staple in households everywhere, has a long and notable history which dates back to 1932. Family-owned and operated, the company has 65 employees and sales numbers for 2010 that are almost $12 million. Their products are sold locally as well as internationally.
Gold's makes and distributes condiments including wasabi sauce, mustard, tartar sauce, ketchup, hot dog relish and salsa under the Gold's name as well as Nathan's, Uncle Dave's and Chef Allen brands. All products are certified as kosher and are sold in glass jars as well as "squeeze me" packages in stores and on their website. Recipes, news items, product information, health tips and contests along with other consumer information are also featured online.
"For the last two decades Gold's has been a visible and significant member of Nassau County's business community," said County Executive Mangano. "The business development strategies advanced by Gold's have encouraged continued growth that benefits Nassau's economy by employing its residents, generating tax revenue, and building a strong economic base.
The Gold's tradition dates back five generations to the Great Depression when Tillie Gold, an entrepreneur who husband Hyman - out of work, started a small family-owned business in the Flatbush section of Brooklyn. In a walk-up apartment on Coney Island Avenue, Tillie began what would become a multi-million dollar business by using an old grinder to clean and grind raw horseradish roots and jar them, by hand, one jar at a time.
With a ready-made ethic, immigrant population in New York's boroughs in place to purchase the horseradish, Tillie would deliver the jars by subway to areas throughout Brooklyn, Manhattan, and the Bronx. By the start of World War II, she had saved enough money to buy a car and deliver the product to neighborhood grocery stores. As the business grew, their two sons assisted with the business, which expanded into a handful of plants and warehouses throughout Brooklyn. Recognizing that the facilities could no longer accommodate the growth of the business, they moved to their modern plant in Hempstead. Today, Marc, Steven and Howard Gold, grandsons of Tillie and Hyman operate the business along with support from their fifth-generation family members; their children.
They now manufacture 50 condiment foods under the Gold's label as well as supplying private label products for other businesses and co-packing house brands for supermarkets.