Mangano Announces Start Of Tree Planting Program
Nassau County marks Arbor Day, begins to replace trees damaged or destroyed by Superstorm Sandy
Nassau County Executive Edward P. Mangano, joined by Nassau County Comptroller George Maragos and local elected officials, today announced the beginning of a tree planting program that will begin to replace thousands of trees felled or damaged by Superstorm Sandy.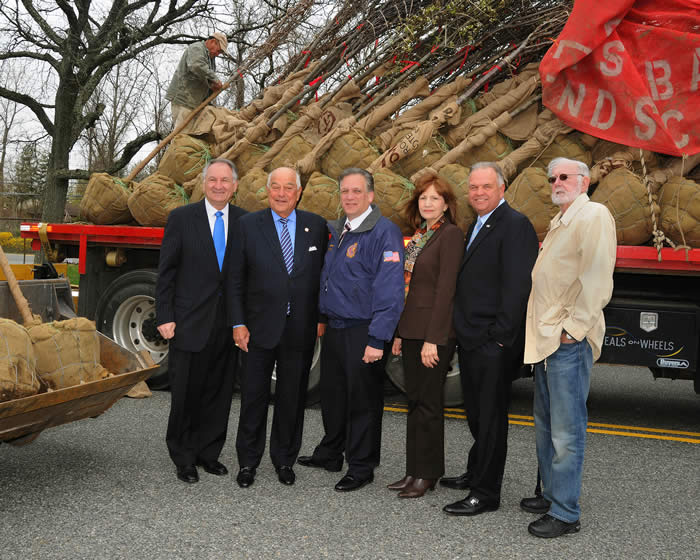 "Superstorm Sandy changed the face of Nassau County forever," said County Executive Mangano. "This tree planting program will continue until we have addressed every location throughout Nassau County that lost trees due to the storm. It is fitting that we begin the work right before we mark Arbor Day."
The plantings will began today on the eastern side of Searingtown Rd. and will continue at a pace of approximately 120 trees per day, weather and other conditions permitting. In addition, the stumps left from trees destroyed by Sandy will begin to be removed in the next week.
The first series of plantings includes 1,100 trees. The types of trees include Red Maple, Red Oak, Eastern Red Bud, Kwanzan Cherry Trees and Hedge Maple.
"We will also be using Cleveland Pears, not Bradford Pears, which proved to be unstable in major storms and were so damaged they had to come down if the storm had not already knocked them to the ground," said County Executive Mangano. "We do not want to ever see what happened during Sandy again."
The types of trees planted will be diversified so a mono culture is created where, like the situation on Searingtown and Shelter Rock Roads, if one tree is compromised than most will be. For example, along Shelter Rock and Searingtown Roads the County will plant not only the Cleveland Pear but Kwanzan Cherries and Eastern Red Bud.
"Most of these trees will flower beautifully in the spring and will restore the beauty to Nassau County's post-Sandy landscape," said County Executive Mangano.
Trees will be planted all over the County, including in the County parks where workers will be planting larger trees, the red maple and oak. The project is being paid for by County Capital funds.
"Every day we address a new issue that did not exist before Sandy arrived," said County Executive Mangano. "The tree planting begins immediately and will continue as we work every day to move Nassau County forward."