Mangano and NCPD Intensify Police Presence in Merrick and Bellmore
Person of Interest Composite Released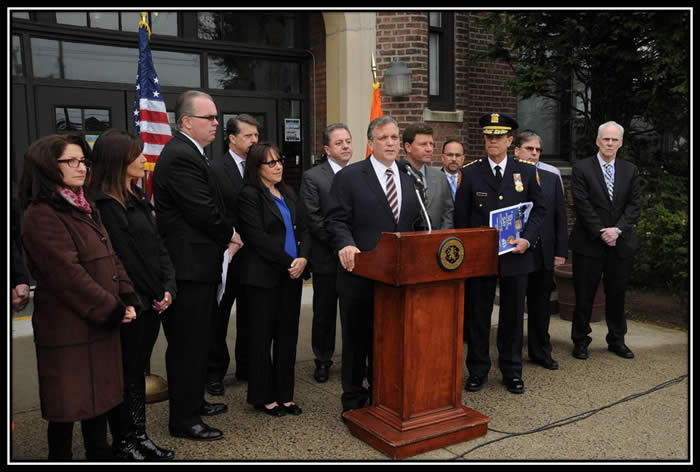 Merrick, NY – Nassau County Executive Edward P. Mangano, Nassau County Police Department officials and school officials held a press conference today in front of Roland A. Chatterton Elementary School located at 108 Merrick Avenue in Merrick to discuss an increase in police presence and the use of electronic surveillance in Merrick and Bellmore and the County's "See Something Say Something" campaign in light of several "stranger" incidences in the Merrick community.
"As a father of two sons and as Nassau County Executive, the thought of strangers approaching our children sickens me," said County Executive Mangano. "Accordingly, I directed the Nassau County Police Department to intensify patrols over this past weekend for Kids Fest and I have intensified patrols that continue today and will not end until the individuals approaching our children are found. Our children are our most precious resource and their safety is my number one priority. Our officers and detectives are working on this matter around the clock."
The Nassau County Police Department also released a composite sketch of an individual that fit the description in some of the incidences. The individual is considered a "Person of Interest" that the police are looking to identify and speak to relating to this matter.
"The Nassau County Police Department has not only increased patrols, but is also employing the use of electronic surveillance and license plate readers," said County Executive Mangano. "I ask our residents to perform a role as well. If something doesn't look right, it probably isn't right. Trust your gut. Call 911."
Here are the reported incidences:
April 26, 2013: At approximately 7:45a.m., at the corner of Merrick Avenue and Smith Street, an 8th grade male student who was walking to school was approached by a Hispanic man on the sidewalk. The man spoke to the student in Spanish and attempted to grab him by the arm but failed to make physical contact. The man appeared to be in his late thirties with a mustache, a dark jacket, dark blue jeans, and bushy black hair. The student ran away from the man and the man did not follow him. The student immediately reported the incident to the main office at Merrick Avenue Middle School and the Nassau County Police came to the school to investigate.
April 25, 2013 - Complainant believes she observed a male white in listed vehicle taking photographs of children as they got off school bus at around 3:45p.m. on Hewlett Lane and Marie Court, using a computer tablet. Vehicle left scene prior to police arrival. Complainant cannot say with certainty that male was photographing children.
April 19, 2013 - The North Merrick School District reported the following: Right after dismissal, three 6th grade students, walking home near Fraser and William Streets, when a 4 door grayish car with a male driver approached. The driver attempted to communicate with the students and the students ran away.
April 18, 2013 - Late afternoon, a 6th Grader reported she may have been followed by a white van after leaving her bus stop near Bay and Harbor.
April 18, 2013 - A female 15 year old who attends Mepham High School stated that she heard announcements at school about a green car following students home. Reporting person stated that while she was walking on Lincoln Blvd. at approximately3:10p.m. she noticed a green sedan pulled to the curb possibly matching that description. She stated that the male was looking in her direction.
April 17, 2013 – Two 14 year old females were walking home at approximately 3:15 p.m. on Wyckoff Avenue in Bellmore from school when a small red four door vehicle slowed down and the driver, described as a Male/White approximately 40 years old, thin build, brown hair, light facial hair wearing circular glasses rolled down his window and drove toward them. The girls ran and the operator of the car made a U-Turn and drove away.
April 16, 2013- Complainant states that her and another female were walking home at approximately 3:15p.m. near Camp Avenue and Richard Avenue in North Merrick from school when a male white approximately 30-35 years of age, approached in his four door dark green or black vehicle. He made a waving gesture and called them over.
April 14, 2013 - a white minivan drove slowly by a 12 year girl old and a group of friends riding bikes in the street on Jeffrey Drive in North Bellmore. The driver, described as a male with dark skin around 40 years old, drove by slowly staring at the children, the vehicle left northbound on Melvin Drive without further incident.
April 10, 2013: At about 7:43 am, an 8th grader from Grand Avenue Middle School was walking to school when he was approached by an old beat up green four door sedan driven by a driver described as a Hispanic male in his mid-twenties with black hair and short facial hair. The vehicle slowed down and the driver waved the student over to his car and then rolled down the window. At that point, the student ran back home.
April 3, 2013- A 14 year old female, stated that while walking home from school with her friend near Beltagh Avenue and Jefferson Avenue in Bellmore at approximately 3:00 p.m., a white pickup truck occupied by a male white possibly in his late thirties did appear to take a picture of the girls with his cell phone camera.