Mangano Brings Melanoma Awareness Campaign To Mineola
County Executive Proclaims May "Melanoma Awareness Month" in Nassau County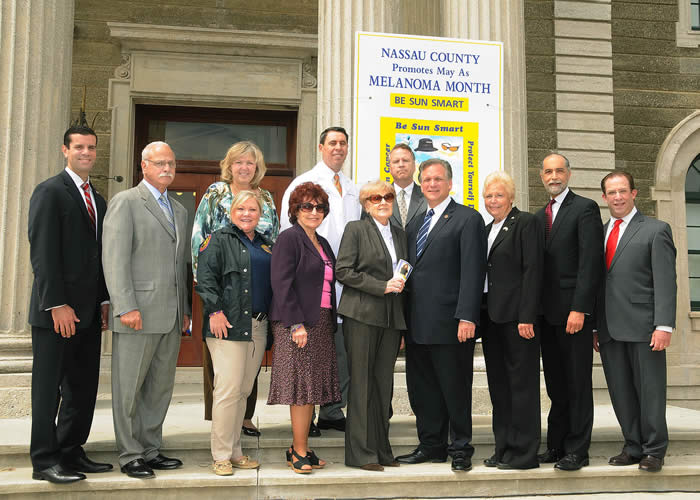 Nassau County Executive Edward P. Mangano was joined by Colette Coyne co-founder of the Colette Coyne Melanoma Awareness Campaign (CCMAC); Nassau County Presiding Officer Norma Gonsalves; Nassau County Legislators Denise Ford, Joseph Belesi, Rose Walker, Michael Venditto and Robert Troiano; Nassau County Health Commissioner Dr. Lawrence Eisenstein; Dr. Joseph Onorato of All Island Dermatology; and NCPD Officer and Melanoma Survivor Sharon Galvin as he declared the month of May "Melanoma Awareness Month" in Nassau County.
Skin cancer and melanoma is the fastest growing cancer in America but can be prevented or cured through early diagnosis. Someone dies hourly from this disease. Statistics show that one in five will get some form of skin cancer.Melanoma is the deadliest form of skin cancer and has a lifetime risk of 1 in 50. By comparison, in 1935, the disease struck only 1 in 1,500. Few people realize that melanoma is the most common form of cancer in young adults 20 – 35 year old and second most common among 15-29 years old. Statistics indicate there will be more than 76,250 new cases of melanoma in the United States and more than 9,180 people who will die of this disease, which translates into one death from melanoma every hour of every day.
"Six practical steps can help protect the skin from the effects of the sun, including: covering up, using a sunscreen with an SPF of 15 or higher daily, wearing a hat, wearing sunglasses that block UV rays, limiting direct sun exposure during midday; and avoiding tanning beds and sunlamps," said County Executive Mangano. "I encourage everyone across our County to honor those we have lost to skin cancer and those who have survived this deadly disease by putting into daily practice the recommended preventive measures and early detection habits that have proven to save lives."
The Colette Coyne Melanoma Awareness Campaign will be hosting their 9th Annual Miles for Melanoma 5K Run/Walk on Sunday, May 19th at Nassau County's Eisenhower Park, Field 2, East Meadow. To find out more information, please visit http://www.ccmac.org/.