Mangano: WWII Armor Museum Coming Soon To Old Bethpage Village Restoration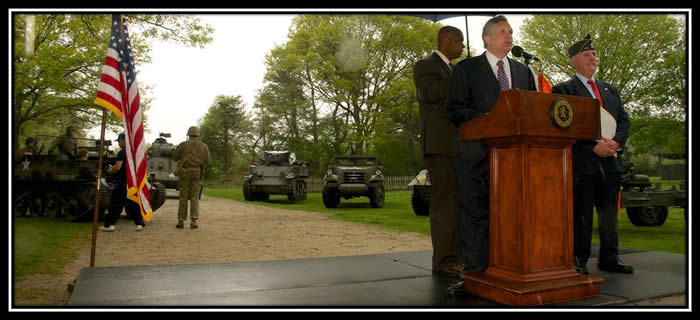 In an era of cancelled air shows and a reduced NYC Fleet Week,a permanent tribute to the American G.I. that will also aid Nassau County's tourism and parks revenue
In the face of cancelled air shows and the downgrading of NYC's Fleet Week, Nassau County Executive Edward P. Mangano today announced that the American G.I. will be forever honored on Long Island through the creation of the Museum of American Armor to be built at Old Bethpage Village Restoration, 1303 Round Swamp Road,OldBethpage thanks, in part, to a million dollar gift from Lawrence Kadish.
"We are watching powerful tributes to our American military reduced or eliminated across the nation and its just plain wrong," stated County Executive Mangano. "Fortunately, the Memorial Day weekend air show at Jones Beach will be held regardless of the loss of the Thunderbirds, but Fleet Week in New York City will be greatly diminished and across the country air shows are being cancelled weekly. Nassau County is moving in another direction. An armor museum that honors every American G.I. will be created on county property this year which will not only pay tribute to those who have defended our nation but will also strengthen the county's tourism and destination industry and providea new source of revenue to help us continue to hold the line on property taxes."
Joined by veterans, elected officials, living historians, representatives from the nearby American Airpower Museum at Republic Airport and the Cradle of Aviation Museum, County Executive Mangano stated, "The ability tocreate an armored column that replicates the sights and sounds of American forces during World War II is one of the most compelling educational tools we have torecountthe story ofour GIs'courage, valor and sacrifice. Place it in this setting of vintage farmhouses and country roadsso reminiscent of the WWII era Normandy countryside, and you have created a virtual time machine that ensures indelible memories for families.
"This announcement is also an unprecedented opportunity to expand the scope of Old Bethpage Village Restoration while preserving the integrity of this setting. Doing so willrecharge public awareness, attendance and revenue for a county park system that has been hurt by the recession," continued County Executive Mangano.
"Congratulations on the anticipated grand-opening of The Museum of American Armor. Long Island is home to an extraordinary number of World War II vets and has always highlighted the importance of educating the next generation about its history during WW II. This museum will be a terrific addition to the array of military museums on Long Island including the Cradle of Aviation and American Airpower Museum. I have been a strong supporter of opening the Museum of American Armor and look forward to its future success," said U.S. Senator Charles E. Schumer.
A million dollar gift and heritage tourism
The Museum of American Armor began with a modest display of military vehicles at the American Airpower Museum at Republic Airportin 2009and quickly grew to become one of the most important armor collections on public display in theNortheast. It will continue to play an integral role at the American Airpower Museum, but will now have adedicatedlocation in which to display and operate all of its tanks, armored cars, jeeps and support equipment.
Lawrence Kadish, founding Chairman of the Museum of American Armor,is providing a gift of $1,000,000 towards the creation of the museum. He stated, "Our appreciation of history can be fickle in in an age ofIphones, Instagrams, virtual realities andWikis. Our appreciation of our nation's battles is often ignored. Seeing these vehiclesrumblingacross an open field recreates a moment in time thatallows us to fully honor our military and understand what was required of an entire generation whose sacrifices ensured the defeat of brutal enemies seeking world domination. Our goal is to bring the sights and sounds of American history to a new generation, and thereby pay tribute to those who have heroically defended our freedomsover the many decades."
Tourism plays a significant role on Long Island. Our tourism generated $301,617,171 in local taxes while employing 71,500 directly and indirectly generating $2.562 billion in labor income.
In addition, heritage tourism has become a significant sector across the country, and Nassau County has an opportunity to grow its share of the market through this effort without cost to the taxpayer. A national survey found that heritage travelers who seek to connect with America's past spend an average of $994 per trip compared to only $611 for other leisure travelers. The study also found heritage travelers are more frequent travelers, reporting an average of 5.01 leisure trips over a 12 month period versus 3.98 trips by non-heritage travelers. They prefer their leisure travel to be educational and they spend more on cultural and heritage activities. Finally, these individuals will travel farther to get the experiences they seek.
History Channel Historian applauds expansion of history tourism
Chief Historian for the History Channel, Dr. Libby O'Connell, stated, "This announcement marks a unique commitment by public and private sectors to preserve and present a seminal chapter in the history of our nation... and our world. It also reflects a commitment to apply a variety of innovative resources to the task of fundingthepreservation of our history.
By allowing complementary presentations of history within the same space, Nassau County has strategically enhanced the ability of Old Bethpage Village Restoration to be a stronger destination for local residents, tourists and those who live within the tri-state areaand beyond.
The arrival of the Museum of American Armor at Old Bethpage Village Restoration will enable a joint marketing program with the nearby American Airpower Museum at Republic Airport and Nassau County's Cradle of Aviation Museum at Mitchel Field, Garden City.
Joint effort with Airpower Museum and Cradle of Aviation
Jeff Clyman, president of the American Airpower Museum, stated, "Over the last several years we haveclearlydemonstrated the enormous synergy of air and armor,as tanks and armored cars have created a literal"parade ofcombat vehicles"down theflight line. Now the whole becomes far greater than the sum of the partsin our presentationof American military history. The ability to base an entire collection of World War II armor in this setting,literally "down the road"from Airpower, will allow for joint programs, national and international marketing and educational efforts unique to theNortheast."
Plans call for the construction of a 25,000 square foot facility on the grounds of the Village. Operational vehicles that will be on public display include the iconic Sherman tank, a Stuart light tank used extensively by the Marines during their Pacific campaigns, a potent 155 mm howitzer, reconnaissance vehicles that acted as armored scouts for American forces, anti-aircraft guns and similar weapons that broke the back of the Axis powers during World War II. Other vehicles range from a classic LaSalle staff car in the markings of a Fleet Admiral to jeeps, weapons carriers and half-tracks.
In addition to World War II programs, tributes will be created to the American service men and women who have served in Korea, Vietnam, the Gulf, Afghanistan and the War on Terror so that the museum is able to fulfillitsmission of honoring America's defense of freedom throughout the decades
Taking to the field of history on May 18th and 19th with a special Veterans opportunity
Special operational weekends are already planned during which World War II living historianswillmount joint operations with the armor and take to the fields of Old Bethpage Village Restoration to demonstrate how these weapons were deployed. Entitled, "WW II Encampment," visitors are invited to attend one such event on May 18th and 19th at the Village.
In addition, the Veterans Health Alliance will be conducting a Family Event during the WW II Encampment on Saturday, May 18th which provides county veterans an opportunity to network and learn more about unique programs available to them.
The Veterans Health Alliance will pay the $10 park admission fee (Children under 5 are FREE) for veterans, their family members and children but FREE ADMISSION IS LIMITED, AND YOU MUST PRE-REGISTER BY the end of the day, May 9. Pre-register by emailing Lauren Hagemann at: lhagemann@mhanc.org. Please include the names of the veterans, family members, and any child 5+ years of age. The Alliance also asks that you leave a cell phone number.