Mangano, Environmental Groups Outline Recovery Efforts At Bay Park Wastewater Treatment Plant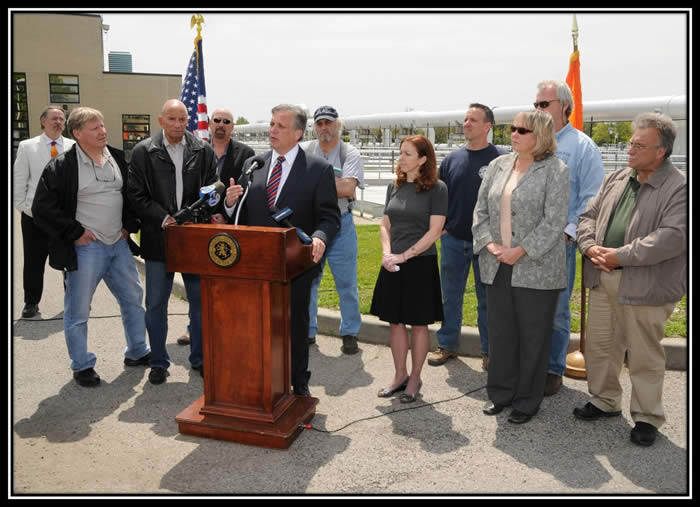 Launches New Clean and Seed Program for Sewage-Stricken Homes
Nassau County Executive Edward P. Mangano was today joined by local elected officials, environmental groups Citizens Campaign for the Environment and Operation SPLASH, as well as residents of the Bay Park and Island Park communities as he outlined a $1.2 billion Post-Hurricane Sandy Recovery Plan for the Bay Park Wastewater Treatment Plant. Last week the plant suffered a power outage and it continues to run on generator power due to extensive damage caused by Hurricane Sandy.
County Executive Mangano stated, "Hurricane Sandy deposited 9 feet of seawater into the Bay Park Wastewater Treatment Plant which resulted in extensive damage to the facility, its collection system and ultimately hundreds of homes in East Rockaway and Baldwin. Thanks to a Federal-State-County Critical Response Team, the plant was up and fully processing sewage by mid-November and meeting all DEC guidelines by December. That being said, the facility remains in a fragile state as it requires critical repairs."
Many problems remain at the Bay Park Wastewater Treatment Plant, including unpleasant odors and problems with the electrical system. The latest incident occurred last week at the plant when an electrical failure, caused by salt water corrosion in the electrical system, shutdown the plant. Engineers expect issues such as this to continue until major repairs are undertaken.
Mangano added, "To truly recover and ensure our neighborhoods and local waterways are protected, significant work must occur. Last week, I met with officials from the State Environmental Facilities Corporation and Federal government to discuss the dollars needed to advance our Post-Hurricane Sandy Recovery Plan. I thank Governor Cuomo, as well as our Senate and Congressional representatives, for pledging their support in expediting funds to get improvements underway."
County Executive Mangano is seeking Federal and State assistance to fund:
$740 million in construction costs related to items such as odor control systems, the electrical power supply and distribution system, effluent screening and raw sewage pumping, and sludge thickening and dewatering facilities.
$500 million dollars for construction of a new Outfall Pipe that delivers treated sewage into the Ocean rather than local bays and waterways.
County Executive Mangano, along with County Legislators Denise Ford and Howard Kopel, today also announced a new Clean and Seed Program for sewage-stricken homes. Residents interested in the program can email nassauclean@gmail.com or call (516) 535-5730. This program continues to assist homeowners impacted by the sewage breaches in Baldwin and East Rockaway. In 2012, the County implemented an interior home cleaning program that assisted over 400 homes in these neighborhoods.
About the Bay Park Wastewater Treatment Plant
For a decade, the Bay Park Wastewater Treatment Plant was a bad neighbor to the surrounding communities and waterways. The plant racked up violations and fines due to poor maintenance, all of which culminated in October 2010 when partially treated sewage spilled into local channels.
Upon taking office, County Executive Mangano invested over $70 million in emergency plant repairs. Additional funds were also dedicated to Nassau's wastewater plants thanks to the leadership of Senators Schumer and Gillibrand, Congressman King and Governor Cuomo. As a result of the County, State and Federal investments, the facility's performance improved and no violations occurred in more than 18 months. This progress was reversed when Hurricane Sandy hit Nassau County's shores.