Mangano & Gonsalves Partner With Community College To Save Volunteer Firefighters Recruitment And Retention Scholarship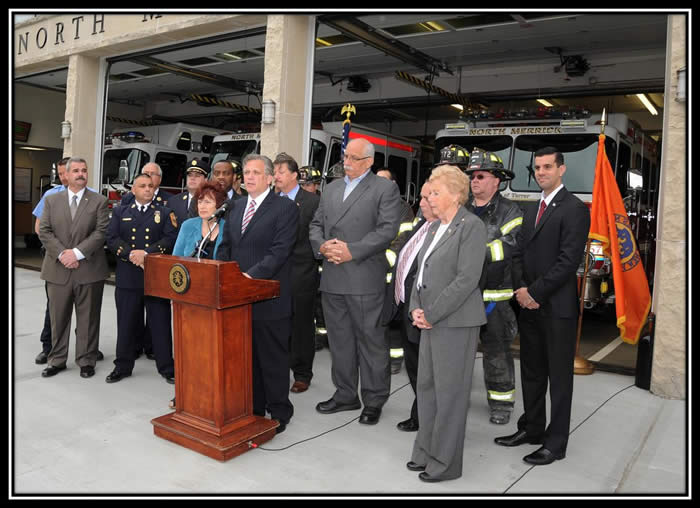 Federal SAFER Grant Expires Local Officials Preserve Funding by Working Together
Nassau County Executive Edward P. Mangano was joined by Legislative Presiding Officer Norma Gonsalves; Nassau County Legislators Dennis Dunne, Rose Walker and Michael Venditto; Acting President of Nassau Community College (NCC) Dr. Kenneth Saunders; and Nassau County Fire Marshal Scott Tusa as they announced funding to save the Volunteer Firefighter Recruitment and Retention Scholarship Program that provides volunteers with free community college tuition. The scholarship was placed in jeopardy as Federal Staffing for Adequate Fire and Emergency Response (SAFER) Grant funds are no longer available for the program. Working together they have come to a resolution through which current and future students who have been eligible to have their tuition to Nassau Community College (NCC) reimbursed through the SAFER Grant will continue to have their tuition reimbursed for the 2013-2014 academic year through a NCC Scholarship.
The SAFER grant, which is Federally funded, is designed to encourage individuals to become participants in Nassau County's volunteer fire departments and as fire department EMS providers by offering a tuition reimbursement while they attend NCC. In exchange for the tuition reimbursement, student/volunteers must maintain volunteer activity and training levels and certain academic objectives during their course of study and must commit to a post-education service obligation of one year for each year of scholarship that they receive. However, the grant for Nassau County's Department of Office of Emergency Management has expired. The Office of Emergency Management (OEM) is very hopeful that the grant will be renewed for the 2014-2015 academic year. The agreement between the County and the College would, in effect, provide a bridge for the 2013-2014 academic year to benefit these students and the County's volunteer fire departments and fire department EMS providers.
In consideration of the College's efforts, Nassau County's OEM will work with the College to provide for security related improvements at the College of a value equal to the tuition reimbursement. These improvements would be paid for by OEM through resources provided to it by the US Department of Homeland Security. The College will utilize a portion of its fund balance to fund the scholarship for the 2013-2014 academic year.
"In arriving at this solution through working together – the County with Nassau Community College, Executive and Legislative branches, Republicans and Democrats – we are showing the same teamwork, timeliness, resourcefulness and caring that are at the very heart of the volunteer fire services in Nassau County," said County Executive Mangano of the agreement that will allow the tuition reimbursement program at NCC to continue for the 2013-2014 academic year.
Mangano added, "Encouraging increased participation by firefighters and EMS providers in the volunteer fire services in Nassau County through assisting students in paying for their education is a plan that's a property protector, a life saver and a dream maker."
According to Dr. Kenneth Saunders, Acting President of Nassau Community College, "The approach embodied in this agreement is a 'win-win-win' for everybody. The recruitment efforts of the volunteer fire services will be boosted, students will receive a tuition reimbursement, and NCC will have its security infrastructure enhanced."
"This program gives Nassau County the opportunity to give back to those willing to put their lives on the line for the safety of Nassau residents," said Presiding Officer Norma Gonsalves. "I am pleased to be able to provide these dedicated individuals with an added incentive to allow them to continue their volunteer work while also improving their lives."
"It is imperative that we continue to offer incentives such as the Nassau County Community College Tuition Reimbursement Program for our volunteer firefighters," said Walter H. Weltner Jr., Commissioner of the Nassau County Fire Commission. "As we saw during Superstorm Sandy and many other tragedies we are dependent upon our local firefighters and emergency services personnel in times of crisis and unfortunately the ranks in many of our local departments are dwindling. I applaud the efforts of County Executive Mangano and our Nassau Legislators for coming together to fill the void left by the expiration of the SAFER grant."