Mangano Increases Police On Land And At Sea This Memorial Day Weekend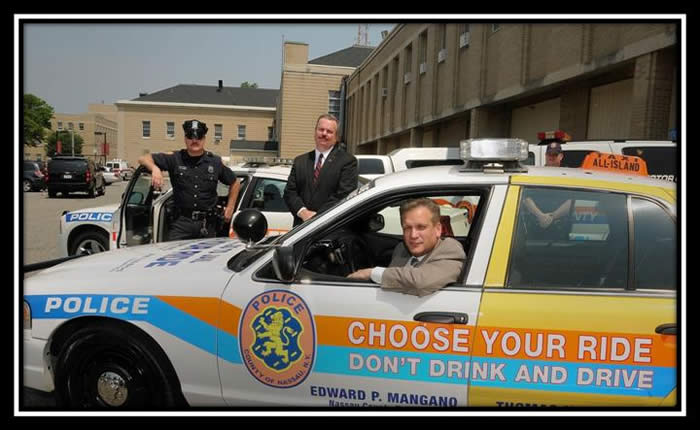 Nassau County Executive Edward P. Mangano and Nassau County Police Commissioner Thomas Dale announced today that the Nassau County Police Department (NCPD) will allocate additional police officers to conduct an extensive DWI enforcement initiative this Memorial Day weekend. In addition, the Nassau County Police Department in cooperation with the New York State Division of Homeland Security and Emergency Services – Office of Counter Terrorism will be conducting a multi-agency initiative that will crack down on law violators in our waterways.
This effective "STOP DWI" initiative, funded by DWI fines collected in Nassau County, allows the County to implement a saturation enforcement strategy that has proven very successful in years past. The NCPD's Highway Patrol Bureau coordinates and plans this initiative to target certain areas throughout the county. During the Memorial Day Holiday Weekend in 2012, there were 85 DWI arrests made countywide.
"It has been no secret that Nassau County is tough on drunk drivers," said County Executive Mangano. "No one is safe when there are drunk drivers on our roads or on our waterways. Our Police Officers in Patrol and in our Marine Bureaus will continue to crack down on those who get behind the wheel under the influence. Last year there were 30 fatalities on our roadways as a result of DWI. That's 30 families destroyed needlessly. Had the drunk drivers involved in these fatalities been responsible in their decision making process, these 30 individuals would be here today with their families."
"Our message is clear: if you drink and drive period here in Nassau County you will be arrested and prosecuted.To date there have been more than 741 DWI arrests this year and a total of 2,860 DWI arrests last year. I urge everyone to be responsible and to plan accordingly not just this holiday weekend but always so that you and others return home safely to their loved ones," said Police Commissioner Dale.
"Now that the warm weather is finally here, many families and friends will gather for a variety of celebrations," said County Executive Mangano. "We want everyone to make smart and responsible decisions not to drink and drive. Our "Choose your Ride" vehicle demonstrates that you have two choices a cab home or a ride in one of our patrol vehicles where you will be booked, processed and prosecuted."