Mangano: Belmont Stakes Weekend Kicks Off With Local Festivities And Enhanced Security Initiatives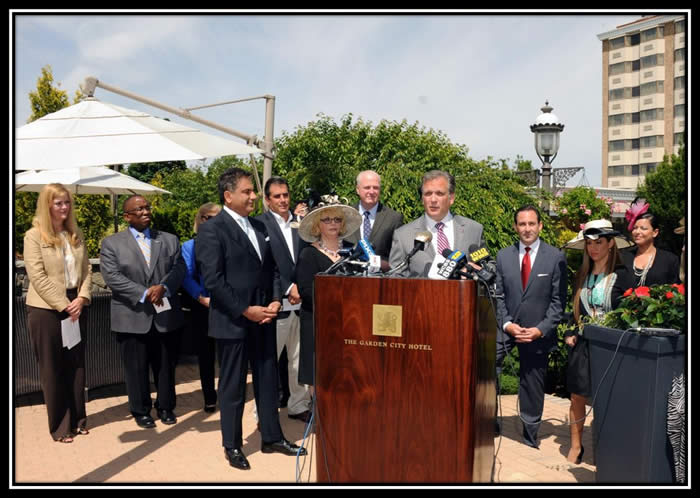 Belmont Stakes to Create a Major EconomicBoon for Nassau County
Nassau County Executive Edward P. Mangano was joined by racing, tourism, business and police officials today as he announced an expected restaurant and hotel boon as well as a major increase in security that will be in place at the Belmont Stakes this weekend. Belmont racing contributes millions to Nassau County's local economy, which benefits local restaurants, businesses and hotels. For one afternoon, tens of millions of turn their eyes to Nassau's own Belmont Stakes -one of the largest sporting events in the world.
"Law enforcement agencies have coordinated efforts to protect our residents and visitors this Belmont Stakes weekend," said County Executive Mangano. "Rest assured that additional resources and personnel will be utilized to help ensure that the Belmont Stakes is a fun filled day for everyone without incident. We ask everyone to help – 'If You See Something, Say Something.' If something seems out of place, or does not sit right with you, just call 911, or tell a law enforcement official."
The Nassau County Police Department has been meeting with the New York State Police Department, the MTA Police, the New York State Division of Homeland Security and Emergency Services and Belmont's private security to ensure a safe day at Belmont's most-widely attended racing day. New security protocols dictated nobackpacks, no coolers, no luggage and no duffel bags will be allowed into the track. Food items must be in see-through plastic containers or see through bags.
"For 145 years Nassau County has hosted the Stakes at Belmont Park," added County Executive Mangano. "The race provides Nassau County with a major boon to the local economy and this Saturday, millions of people around the world will be watching us once again. The Belmont Stakes are always a great start to Nassau County's summer tourism season. I invite everyone to visit Belmont Park for the festivities this coming weekend and to come back all summer long to enjoy our beaches, pools, golf courses and downtown villages."
In addition to the Belmont Stakes, residents can attend the annual Belmont Festival in Garden City on Friday. This very popular event, sponsored by the New York Racing Association and Stifel Nicolaus, is one of the most anticipated and well attended events of the year and it gets bigger and more popular each and every year throughout the county. The festival takes place on 7th Street from 6-10 p.m. and features dance groups, live music and family-friendly activities.
Residents and visitors can also attend festivities on Sunday as the Village of Floral Park hosts their Annual Floral Park Belmont Festival on from 2-7pm on Tulip Avenue.
Joining the County Executive at the press conference were Nassau County Police Commissioner Tom Dale; Nassau County Chief of Patrol Frank Kirby; Vice President and Chief Marketing Officer with the New York Racing Association (NYRA)Rodnell Workman;Director of the Long Island Convention and Visitors Bureau JoanLarosa;Branch Manager and Senior Vice President/Investments with Stifel Nicolaus RobertCodignotto;President of the Nassau County Chambers of Commerce JulieMarchesella; Althea Robinson, Executive Director of the Garden City Chamber of Commerce; Joseph Ardito of the Franklin Square Chamber of Commerce; Morris Moinian, Owner of the Garden City Hotel; and Grady Colin, General Manager of the Garden City Hotel.
The Belmont Stakes take place on Saturday, June 8th, 2013 at Belmont Park, located at 2150 Hempstead Turnpike, Elmont NY. For more information please visit www.belmontstakes.com
.