Mangano Reopens West Shore Road Earlier Than Expected After Sandy Reconstruction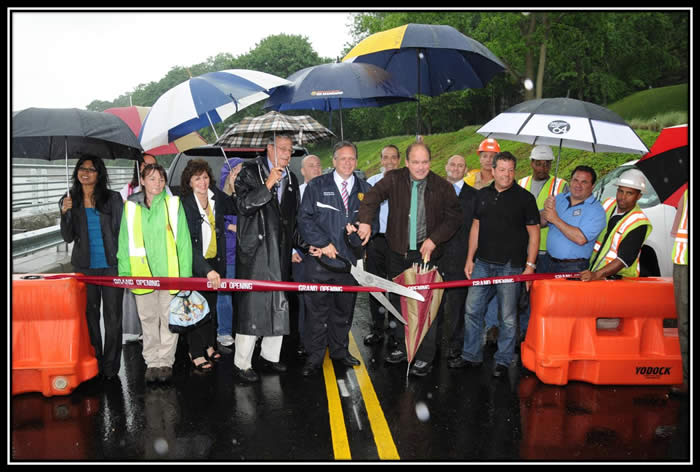 County Executive Mangano is assisted by Bayville Mayor Doug Watson, Mill Neck Trustee Frank Slaski, members of the Bayville Chamber of Commerce, Alac Construction Corp, and the County's Department of Public Works as they officially open West Shore Road.
Nassau County Executive Edward P. Mangano today announced the opening of West Shore Road after extensive repairs were made necessary after Superstorm Sandy caused a major portion of the seawall and roadway to collapse. Originally slated for an 18-month construction period, Mangano signed an Emergency Order and mandated the project be completed within nine months. The reopening was originally scheduled for July 4th weekend.
"The rebuilding of the West Shore Road seawall and roadway is symbolic of Nassau County moving forward and rebuilding after Hurricane Sandy," said County Executive Mangano. "I want to thank residents, officials and businesses in the communities surrounding West Shore Road for their patience as we raced to open this road in time for the Summer tourism season."
In addition to the damage done to West Shore Road, the Bayville Bridge was rendered inoperable after Hurricane Sandy's massive floodwaters destroyed the electrical system. The bridge was put back into service two months ago.
With some additional construction still remaining, West Shore Road will be open but subject to periodic lane closures until the July 4th weekend. Closures will not take place on weekends. Specifically, a section of West Shore Road just south of Cleft Road will be subject to daytime closures for less than one week to install metal sheeting at the location.
The rebuilding of the West Shore Road seawall was recently recognized as the New York State Society of Professional Engineers as the Project of the Year and Donna Boyle, who managed the project for Nassau County, Engineer of the year.