Mangano Unveils Superstorm Sandy Art Celebrating The Human Spirit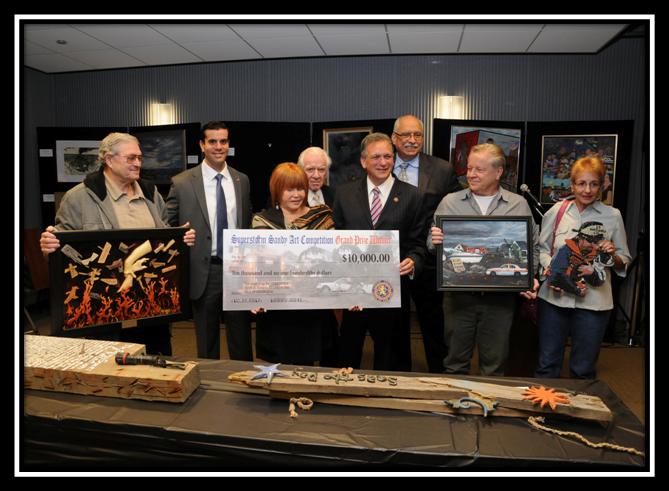 Pictured from left are 2nd place winner Howard Busch of Oceanside; Nassau County Legislator Michael Venditto; Susan and Lawrence Kadish who donated the prize money; Nassau County Executive Edward P. Mangano; Nassau County Legislator Dennis Dunne; 1st Place Winner Ronald Hendrickson of Massapequa; and 3rd place winner Audrey Troyka of Seaford.
Nassau County Executive Edward P. Mangano unveiled today an art display that features hundreds of works from artists throughout the region that celebrate the strength of the human spirit in the face of Superstorm Sandy. Following his review, County Executive Mangano announced the winners who participated in the "Sandy" Art Challenge with a $10,000 top cash award; Second prize was awarded $5,000 and Third prize an award of $2,500. There was also two Honorable Mention Awards of $1,000 each. The awards were made possible through a private donation from Lawrence and Susan Kadish. The winners were as follows:
1st Place: "We Are Strong Island - A Salute to Nassau County Residence & Courage" by Ron Hedrickson –Please come on up!
2nd Place: "First Responders Conquers Chaos" by Howard Busch- Please come on up!
3rd Place: "Mosaic" by Audrey Troyka- Please come on up!
Honorable Mention: "Untitled" by Deirdre Whiston
Honorable Mention:"The Wave of Recovery" by Laura O'Shaughnessy-Swan
Young Adult/Children's 1st Place: "Tears of Destruction" by Jenny Guarino
Young Adult/Children's2nd Place: "Fleeing the Storm" by Yovica Valentin
Young Adult/Children's3rd Place:"Sandy's Face" by Erin Brown
"Thanks to the generosity of Lawrence and Susan Kadish, Nassau County was able to invite artists from throughout Nassau County to participate in an open art competition that allowed them to create a permanent tribute to the spirit of all county residents who have endured the wrath of Superstorm Sandy," said County Executive Mangano. "I congratulate and thank all of our winners today; and thank all of our participants as well for sharing their experiences and gift with us."
Mrs. Kadish, an artist in her own right, and a longtime supporter of the arts, noted, "This traumatic experience of 'Sandy' touched every one of us. Artists have the ability to translate these experiences into expressions that resonate within our souls. This competition strove to encourage our community of artists to come forward and create works that spoke to us today and far into the future."