Mangano Announces Panic Alarm Program For Victims Of Domestic Violence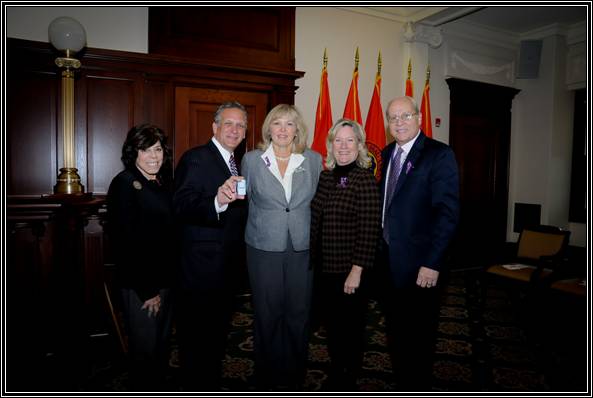 County Executive Mangano (2nd left) with members of his Family Violence Task Force. From left Sandy Oliva, (Executive Director, Nassau County Coalition Against Domestic Violence), County Executive Ed Mangano, Legislator Denise Ford, Cindy Scott (Executive Director, Coalition Against Child Abuse and Neglect, and Dr. John Imhof (Commissioner, Nassau County Department of Social Services).
Nassau County Executive Edward P. Mangano unveiled a technological upgrade to the current system in place for victims of family and domestic violence. A new unprecedented Panic Alarm Program will be available for victims of domestic violence that will replace the current Caper system. The wireless panic alarm will connect directly with the Nassau County Police Department's Communications Bureau. The wireless device will be activated just by pushing the button. Once the button is pushed, a two-way microphone communication is established between the alarm and the Nassau County Police Department Communications Bureau that will stay activated and will record until terminated by the Police Department. Furthermore, the alarm gives a GPS location to the Nassau County Police Department, thereby generating an accurate location for responding officers.
Two months into his administration County Executive Mangano appointed a distinguished panel of individuals to serve on his Family Violence Task Force. After reviewing the 15,895 cases of domestic violence reports in Nassau County in 2012 this Task Force strived to find a way to cut down on the response time that could save the lives of family and domestic violence victims. County Executive Mangano and members of the task force are proud to offer this panic alarm as a way to empower victims. The panic alarm program is the same program that the County Executive is implementing in public and private schools across the county.
If you are a victim of domestic violence call 911, or you can speak to someone at the Coalition Against Domestic Violence, 24 hours per day at 516-542-0404 www.cadvnc.org